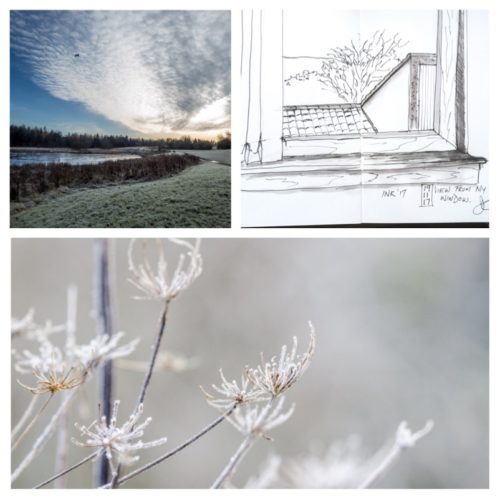 It was a lovely frosty morning (-1ºc) with bright sunshine, so I decided to get up (fairly) early and go out to source some photos in St Mo's.
Scamp then noticed that Hazy had phoned yesterday when we were out and because we hadn't checked the phone when we got in, we hadn't phoned her back. So she warned me that she was going to check if Hazy was free for the return call. I told her I had my phone with me and to text me if she was up for a call back. I'd got a couple of photos which you can see above and was just walking into the woods to see if there were any photogenic deer available when my phone vibrated to tell me that Hazy was indeed on the phone. I about turned and retraced my steps back to the house and had a chat with Hazy. After comparing notes on books we'd read, she went to rest and I went for a coffee.
From then on the temperature rose just enough to take away the frost without providing a comfortable temperature for a walk. As a result, after lunch I got a sketch done for my one-a-week personal challenge and started planning the Keyboard Maestro macro that would allow me to automate the playlist creation for the car player. I didn't get far with that, but at least I did get the sketch done.
We headed out to Glasgow for the Sunday Social at Arta and decided to park in JL carpark rather than try for an on-street space near Arta itself. The reason was that tonight was the switch on for the Christmas lights and I just knew parking would be at a premium. Got parked easily in JL which was a surprise, but the crowds around George Square were much more than we had anticipated. Added to the fact that anti-terrorist blockades had been erected around the square, it took us ages to get down through the city to the venue.
Arta itself was quite quiet until just after the switch-on, then it livened up a bit. We left earlier than we'd intended, hoping to avoid most of the crowds, but came out just as the fireworks display started. Once we were on Buchanan Street and the fireworks had ended, the crowds (estimated at 20,000) were streaming out and heading for the carparks and the bus station. Got through without too much pushing and shoving and emerged onto Dundas Street from the carpark without too much problem. One punter was a bit annoyed that I actually wanted to drive my car out of the carpark and onto the road. He seemed to think he had right of way and could walk in front of me. A quick "Fuck Off" informed him of the error of this assumption. Got home in double quick time after that.
A dull, dreary, grey day with nothing much to recommend it apart from a walk in the frosty air and a phone conversation with Hazy this morning. Oh yes, and the dancing was good too. PoD was the frozen cow parsley.
Tomorrow is Monday with all the timetable that entails. It's 4.5ºc just now and raining, so not much chance of a frosty walk tomorrow.