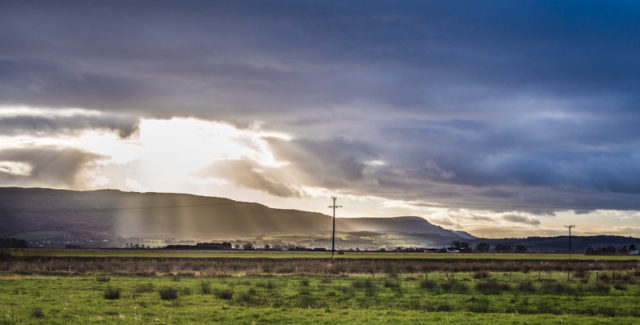 Neither of us could decide where to go today.
We'd both considered travelling to Embra on the train, but Scotland were hosting the All Blacks at Murrayfield and that meant the trains would be busy. If we'd looked a bit closer we might have noticed that the game didn't start until after 5pm, so the 10.15am train wouldn't have been all that busy. As it was, we waited too long and missed the sunshine again. We finally settled on M&S in Dunblane for some shopping and possibly a cup of coffee. On the way there I made the suggestion that we should maybe detour to The Smiddy, a new farm shop / tearoom just outside Doune. Yes, that met with approval. So after buying more than we needed at M&S we went through Doune, giving a nod to David Stirling on the way past. Such a great place for a memorial. With his binoculars in his hand and his coat tails flapping he looks quite the part on the hilltop. Google him if you've never heard of him.
Couldn't remember whether it was right or left leaving Doune – it was left! Five minutes down the road took us to the Smiddy. I was watching the light on the hills as we approached it and was pleased that I managed to grab just a little of the magic before it blew away. The Smiddy is a bit twee and expensive, but the views are good and so is the food, so we weren't complaining. We were just having a light lunch, intending to have a curry delivered tonight for supper, but both our lunches were substantial enough to stand by themselves, so the curry was postponed until another day.
By the time we left, the light was beginning to fail and evening was approaching fast. Spent the evening working out how to create a playlist on a USB drive to play in the car. It's remarkably simple to do, just the Mac software makes it a bit of a tedious task. However, it worked and I've tested it in the car. Now what I need to do is create a Keyboard Maestro macro to do the heavy lifting for me. That should be a fun job for a wet afternoon. Lots of swearing and talking to myself.
Todays PoD is a heavily edited picture of the light on the hills from The Smiddy.
Tomorrow we are hoping to go dancing in the late afternoon, but the Christmas lights get switched on in Glasgow tomorrow afternoon, so traffic will be hectic and parking places at a premium. Wish me luck.