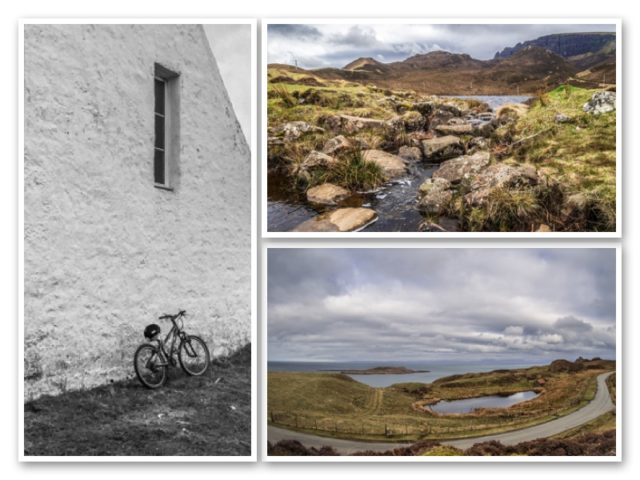 Looked out the window this morning and saw a bird that looked like a thrush, but with a white stripe above its eye and a rusty brown patch under its wing.  Google thinks it's a Redwing.  I think it's right.
Today we drove through Portree, although we did stop to wander round the shops in the town to see if there was anything new.  There wasn't.  Dropped in at the Skye Batiks shop, but there weren't any shirts to tease £35 out of my wallet, so we got back in the car and Scamp suggested Dunvegan as a destination and I agreed as long as we could take the scenic route through Sligachan.  Pronounced SLIG achan, not Slig A chan as some folk think.  The emphasis is on the first syllable.
Agreed on the destination and the pronunciation, we set off in search of the sun.  We sort of found it, there was a bit of rain to spoil  the party, but we shrugged it off. When we got to Dunvegan, Scamp wasn't bothered whether we stopped or not.  Sometimes it's travelling hopefully that counts more than what you do when you arrive.  What we did do was go on a new road.  One of the rules we set ourselves these days when we go to Skye.  We must travel on a new road.  Today's was a short road down the hundred yards to Dunvegan slip.  Not too scenic when we arrived, but task accomplished.
From Dunvegan we drove to Glendale which used to have a cafe with spectacular seafood.  Last time we were there it was closed and in a sorry state.  This time it was open and offering a limited menu (no seafood in sight) but decent soup according to scamp and a very tasty local beef sandwich for me.  Followed by real coffee and tea and a slice of lemon drizzle cake for Scamp and a slice of carrot cake for me.  Looks like a fairly decent return from the doldrums for the cafe.  Busy too.  We gave up our seats at a five piece table to a group of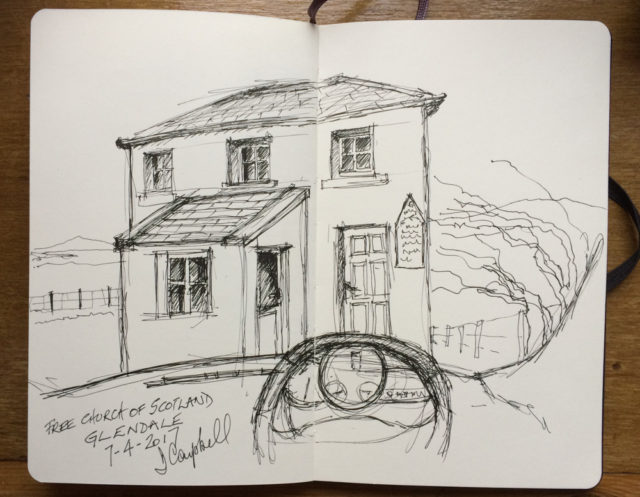 Indian folk and settled in a two seater table that had just been vacated.  Made sense to both parties.
Sat in the car and sketched the Glendale Free Church building (closed for three weeks because of undisclosed structural problems).  It's funny, but when I photograph a building and post it, I immediately see what's wrong with the sketch.  That's what happened here.  It's all a learning curve.  Just as we were leaving a family of 12 arrived at the cafe and they didn't come out again, so I presume they were seated.  Good to see it's still attracting business.
Drove home the boring way through Edinbane and on through Portree.  Dropped Scamp off at the house after meeting Wee Jaki then took my cameras out to Loch Gangaig, just north of Digg.  Got a few photos from the tripod of the outfall from the loch and then drove a few hundreds yards down to the next wee lochan to get some more photos of a rock fall.
After that it was home to dinner which was boiled ham, potatoes and cabbage.  Scamp substituted egg for ham!  Quite lovely.
Tomorrow?  Well, we've gone left and right.  Straight ahead takes us to Angus's house, so that won't do.  TBH, I don't know where we will end up.