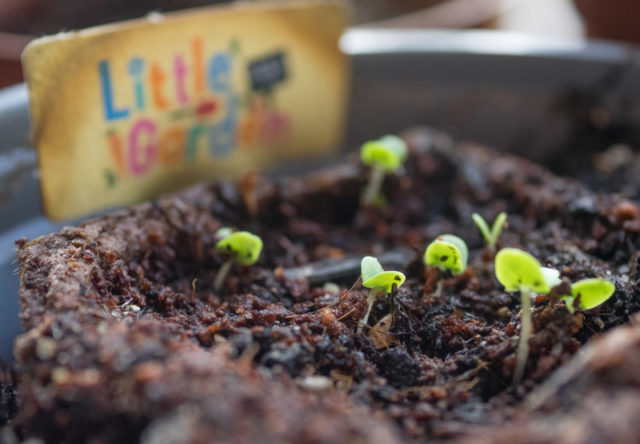 Scamp's turn for breakfast and an early knock on the door.
Our veg box arrived this morning as Scamp was making breakfast just after 8.30. What a haul it was Pineapple, Melon, Avocados, Tomatoes, Grapes, Carrots, Potatoes and lots, lots more. Far more than we expected or needed, really. I'm sure well manage to eat our way through most of it though.
Just after I'd had my shower this morning, I felt a well remembered itch on my left wrist and sure enough, there was the little black spot that turned out to be a tick, the second one I've had this year and hopefully the last. It had been sitting quietly underneath my watch strap. I think I may have to stick to the main paths in the parks from now until the start of the winter when they die off.
Today was bin day and we are working our way through cleaning all the bins. Today's customer was the green bin for bottles and plastic – recycling waste. I took up the cudgels and scrubbed it out with a big hard brush. I must admit it made a fair difference to the bin and was a worthwhile use of my time. It also gave me a chance to wander around and get some sun on me.
The unthinkable happened this morning.  The coffee machine wouldn't work.   No coffee was forthcoming from it.  In fact, nothing was coming from it.  I could hear the pump doing its best, but not a drop was coming out of the basket.  Tried the steam jet and it worked, so it wasn't the pump that was at fault.  After a bit of rudimentary stripping down, it turned out that some gunk was stuck in the dispenser.  The bit that the spray connects to.  There are four holes in the dispenser block and none of them were working.  After a lot of poking and prodding I got three of them back in business and that was as far as I was willing to go.  I watched a video of an engineer stripping down a Gaggia like mine and knew that it was well beyond my knowledge or tools.  I put it all back together again and went looking on the Which site to see what was available.  It's not the cost that's the problem, it' sourcing the things in these difficult days.  Later I managed to make a cup of coffee with it, but it took a long time.  I'm afraid you pair (you know who you are) have probably made the right decision with my birthday present.  I'll see what happens tomorrow.
After lunch I went in search of milk down at the shops. Beginning to see more and more people wearing masks now. Some, in fact most, seem to be home made. I might look for a pattern and put some of my 'fat corners' to good use. I did see a couple of example patterns somewhere and read of people having irritation from the elastic rubbing on their ears. There was a suggestion that you could modify the design to have a strap with a button and another with a button hole which would fasten behind the head instead. I don't think I'd adopt that method it sounds a bit like "Do you think my heid buttons up the back?"
Hauled my bag of milk and chocolate (that's the prize for going) back home and hadn't taken one photo. Then I remembered the little basil seedlings that are growing on the kitchen window sill. They became the PoD.
Dinner tonight was an old time favourite. Cabbage, bacon and potatoes. Sounds uninteresting but it's truly delicious.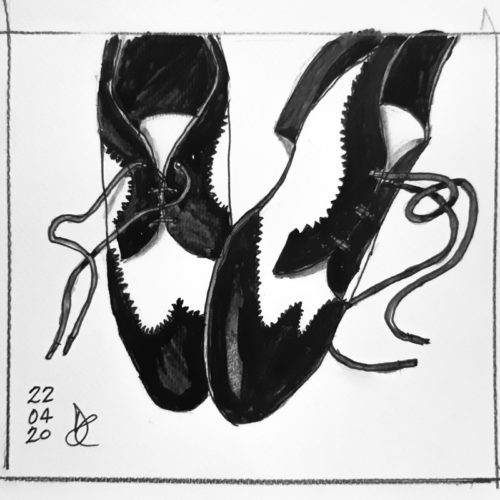 Played a bit of catch-up with the Lockdown Library for Instagram. I got painter's block yesterday, so today I'd two drawings to do. Actually I did do a quick sketch of my dance shoes last night, but wasn't happy with it. Today I added some brushed on black ink and they came alive. So that worked for yesterday. Today's sketch was a simple one of my old iPhone SE. Now it seem so small.
Tomorrow I may HAVE to cut my hair. It's getting to be really annoying and messy. Its time may have come.