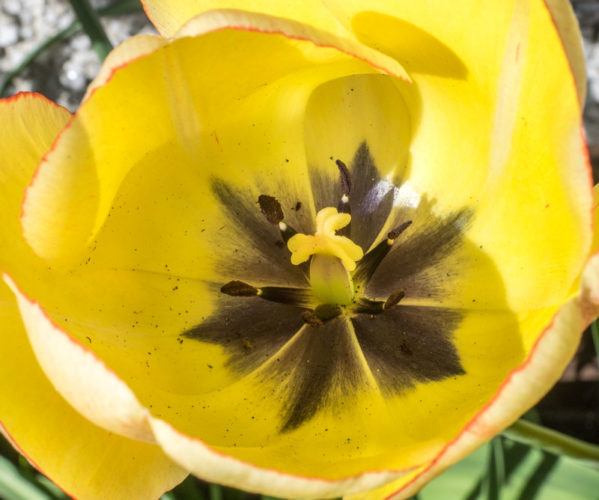 Who would have thought that towards the end of April Showers month we'd have to get the hose out and water the garden?
Gardening today. First I offered to strim the back grass. There is really no point in hauling out the grass cutter and doing a proper cut, because of the lumps and bumps and paving slabs that make it almost impossible to get an even cut. I chose instead to use the strimmer, but only after moving all the plant pots to give myself a fairly easy run at it. Then the pots had to be put back again and we couldn't be sure exactly where they went. Finally Scamp declared that they were near enough right. I photographed the layout so we'd know next time.  I also took the opportunity to photograph her blue Muscari (Grape Hyacinth) and Chionodoxa luciliae (Glory of the Snow). Muscari made it to Flickr (G o t S didn't).
The next gardening task was to fit the hose to the tap and spend a fairly pleasant half hour hosing down the back garden. I'd already soaked my sprouting peas in the bird bath to make sure they continued to sprout. Like I said, it was a fairly pleasant half hour, but not for Scamp who was leaning out the back bedroom window apparently "Just supervising." A quick flick of the spray controller to "Full Firefighter Force" and an accurately directed jet caught her unawares and put an end to her supervision. Of course, I got pelters for that afterwards. As an act of atonement I washed all the back windows and squeegee'd them clean. I even did the awkward back door.
After lunch, when we were speaking again, Scamp went out to the front with her book and read for a while in the sun.  It was warmer today, because the wind was a bit less boisterous than it has been of late . I should have been painting, but instead I went for a walk to St Mo's.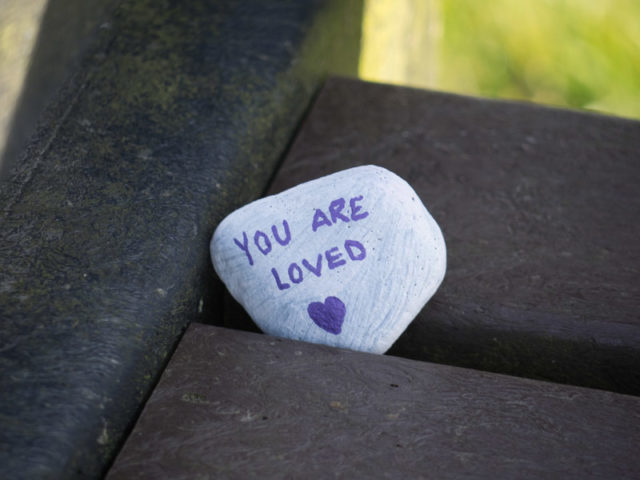 Before I went, I took some macro shots of a pair of yellow tulips. One of them made it to PoD. The only half decent shot I got in St Mo's was one of a mummy Mallard with her brood of ducklings. Pity they were so far across the pond to be almost invisible in the ripples. I saw and captured one other interesting sign of the times. I've seen artists on FB painting messages on stones and leaving them for someone to find. Today I found, not one, but two on a seat in the park. It's a nice thought that took very little time to do, but might give someone some much needed support. I hope so.
Didn't get a painting done today, so maybe I'll manage to play catch-up tomorrow. Hoping for a veg box delivery some time tomorrow. It's amazing the silver linings that are appearing from these dark clouds.