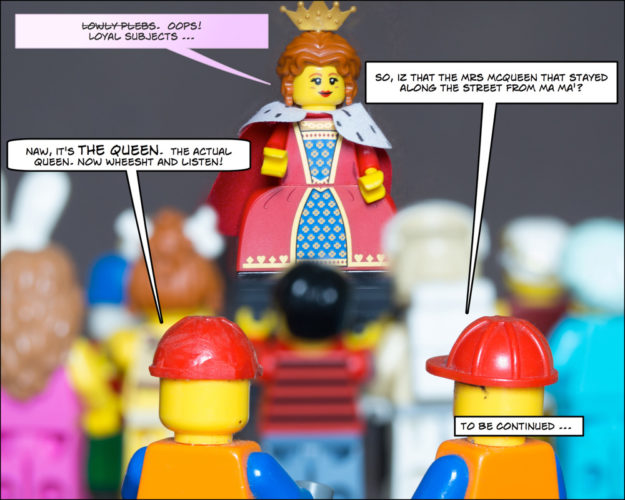 A dull morning.  Cold and dull.
Afternoon was spent trying to ignore the ignorant Rangers supporters next door stamping and shouting their team on to an eventual win, while we watched the F1 cars whizzing around a hot track in China.  Neither of these sporting events really improved my mood.
Scamp wanted to go to the Sunday Social at Mercado in Glasgow.  I wasn't totally over the moon about driving and parking in Glasgow city centre just after an Old Firm game.  We'd never been to Mercado, but had heard that the floor wasn't great for dancing.  I thought I might just have enough time to go out and get today's PoD, but just as I was going out, the rain came on.  Plan 2.  I'd left the 'weemen' setup and tripod in position in the spare room.  I took three of four shots of the same scene as before with differing focus points.  At least I'd have a potential PoD.
On the off chance that it would improve my mood, I drove in to Glasgow.  Tried to park in an NCP carpark just round from Mercado.  Luckily I didn't have enough change to pay the exorbitant £6 for 2 hours.  Drove back round and parked on the street 100m away.  Parking free on a Sunday.  A bit further to walk, but a saving of £6.  NCP Normal Costly Parking.
Maybe it was the endorphins again, but after 2 hours of almost non-stop dancing, I walked out in a totally different mood.  Maybe it's not anything so scientific, but there's something in this salsa dancing that gives me sore feet, but lifts my spirits.  Watched a few 'rubber men' wandering around bemused with smiles on their faces and Rangers scarfs.  Maybe they were experiencing the effects of endorphins too.  Saw a few sad looking green and white dressed men too.  It's a strange game this football.
The image  for this PoD is two shots.  One focused on the Queen and one on Shug and Tam.  I exported them from Lightroom as layers into Photoshop and painted a mask on Shug and Tam's layer to allow the Queen to show through from the lower layer.  This gave the effect of sharp focus on the front pair and on the Queen at the rear of the stage while the 'subjects' were out of focus, a physical impossibility, but essential to the conversation.  The text was laid on using Comic Life V1 which, thankfully, I'd retained when I updated to V2.  Sometimes updates do more damage than good.  That's why I'm still using Mountain Lion instead of the allegedly borked El Capitan on the Mac.  I'll continue to use it until it isn't practical anymore.
Hopefully a warmer day tomorrow.