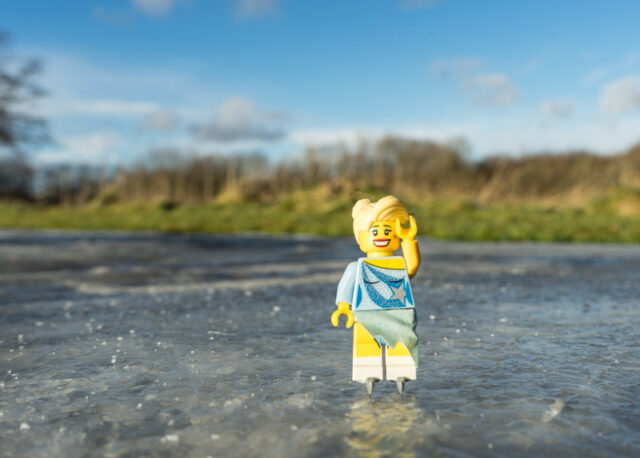 It was a cold start again. No snow and only a little bit of ice, but frost covering all the cars.
We decided we'd make a fairly leisurely start today. In fact it was well into afternoon before we booted up and walked around St Mo's. I reckoned there would be enough ice for Katy and there was. I took Scamp on a trek out into the wild woods at the back of St Mo's. I thought I'd make a slight detour to show her my hibernating ladybird, but shock, horror, no ladybird. Perhaps the two sunny days recently have brought it out of its winter sleep. Let's hope so. We did find a lush crop of hair ice on the exact same log I'd found it earlier in the month. Plenty of other logs nearby in the same state of degradation with no sign of the strange ice formation on them. Apparently it's linked to a specific type of fungus. Strange stuff.
Katy had been wanting to go skating for weeks, but the thaw had put paid to her chances. I was sure the ice would be thick enough today and it was … but only just. I got her to pose and even as I was setting up the camera, I could tell that the ice was starting to melt. I could even see the dead leaves under the ice moving in the current. Took a swift half dozen or so shots from various angles. Some with extra illumination, some not. As we were walking away from the tiny pond I 'chimped' them and none of them were truly sharp. Not to worry I was sure I'd find a more accessible shot on the other side of the big pond.
We walked round the pond after we'd survived the tangled brambles and the two leaps of faith across the burn. There I found what I was looking for. The rain from last week had frozen solid on the path making walking it without YakTrax treacherous. Not so for a minifig with ice skates. Katy posed again and this time I got the shot. Not perfect, but much better than the first shots. I have to be careful here. Katy is not technically a Weeman. She is a WeeWummin. She's my ice skater. She made PoD.
Dinner was Fish Fingers and Baked Potato for Scamp and M&S Beef Burger with Baked Potato for me. Both washed down with a glass of Malbec. Not the best tasting wine I've ever had. It tasted raw and bitter to me, although Scamp found it really nice.
Entertainment started at 7.30pm in the form of a Zoom Dance. It was a particularly well attended dance and our feet are feeling the effects of dancing the night away. It finished just half an hour ago. Great fun as usual and another Zoom Class to look forward to tomorrow.
Apart from the dance class we may go out for a walk if the weather is conducive. It may be cold tomorrow as the temperature is -2.4c just now.