It started out as a decent day, today. Warm with blue skies and sunny. Decided to take a trip into Glasgow to get some paint and a new reservoir for my pen. Just entered the carpark when I heard a clicking noise which seemed to be coming from the driver's side front wheel. When I parked, I felt around the tyre, and there it was, a cross head screw and a cross headed me too. Oh well, nothing could be done here at the Concert Hall carpark as there doesn't seem to be a tyre fitter's garage there. Wandered round the town and took a couple of shots of my favourite building of the moment on the corner of Ingram Street and Queen Street. The glass frontage with the curved corner gives some beautiful reflections of the nearby buildings.
Got back to the carpark to find, as I feared that the tyre was deflating. Used my portable compressor to get it back to about 25psi and drove carefully home to get it fixed at Jim Dickson's. Back in business again!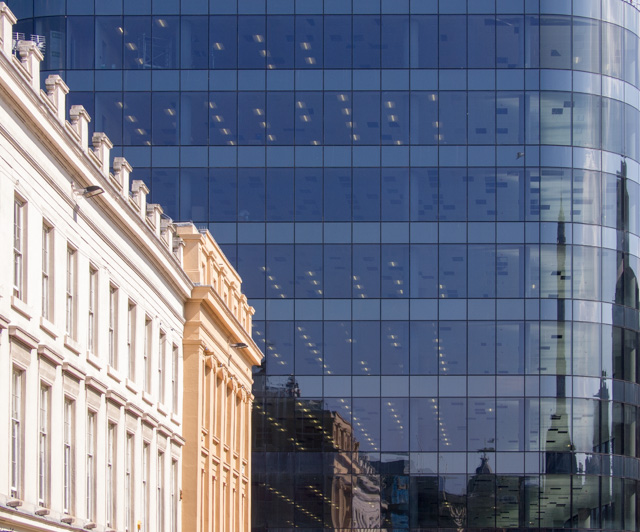 Leading Lines
The buildings in Exchange Square reflected in the glass face of the new bank building.  I liked the leading perspective lines and the inferred perspective from the striplights inside the glass building.  Too arty?  Tough, that's my take on it.
365/113