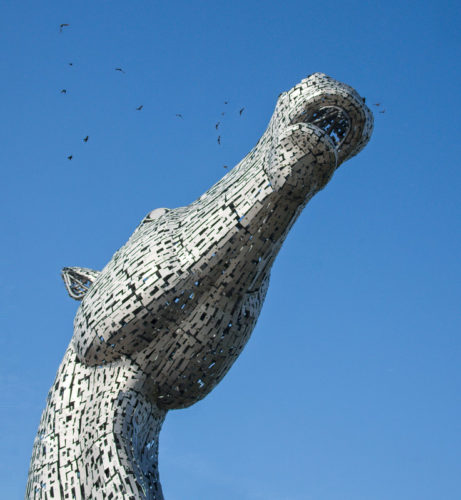 Maybe it is for some, but for us it was a good day. Got lots of little things done and a visit to some horses to boot.
In the morning I got my blood-letting organised for both my PSA test and my diabetic check. Also got my flu jag sorted. With that in hand, and after Scamp had cut some more of her sweet peas, which I just caught a waft of just now, we drove off to Tesco to post a parcel, pick up my meds and tried to get some petrol, but the petrol station was fully booked and more, so we dropped off at BP to get some expensive petrol. Plenty of pumps free there, because the petrol is that little bit costlier. Then it was off east.
Drove to Grangemouth and from there to Helix Park where the Kelpies rear out of their underwater home. Wandered round them, took some photos and just soaked up their calming atmosphere. Every time we go there, we're impressed with the grandeur of them, just like the first time we saw them. It's something we never tire of.
Had a spot of lunch at the cafe and then went for another walk around them before coming home. Traffic was the usual stramash on the motorway. We chose the easier route through the town centre and took a diversion down past the school to see if they'd started the demolition yet, but everything was still in place. Fought our way back home past the clot that is the new roundabout, or maybe it was a clot who designed the phasing of the lights on the new roundabout.
Back home I finished off my day with another box ticked, when I watered the end-of-season nematodes into the raised bed, various plants and two lots into the compost bin to try to curb the slug menace. We'll see if they're any good this time.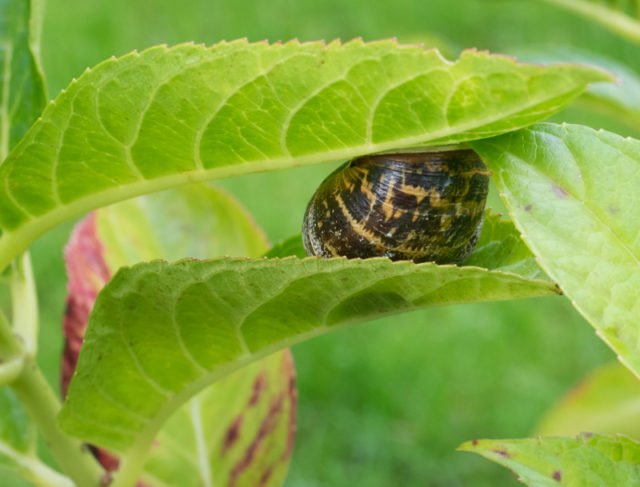 On the subject of slugs and snails, Scamp noticed a large snail sitting quite happily between two Hydrangea leaves this morning, so it became a possible PoD. It was later usurped by a shot of the Head-Up Kelpie surrounded by starlings. They were starting to practise a murmuration while we were there. That'll be a sight to see later in the year. Anyway, the Kelpie and the Starlings got PoD. A great day with some rain, but lots of sunshine.
Maybe going in to Glasgow tomorrow. Weather permitting, of course.