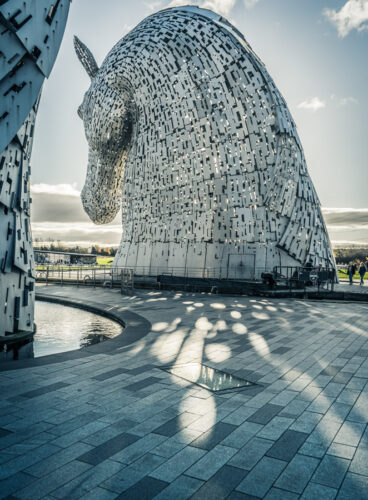 It was a beautiful morning. Too good to sit in the house.
I enticed Scamp out, telling her we'd go for a walk. Well, were going for a walk, but we'd to drive to the Kelpies first. I felt sure they'd bring a smile to her face and they did. Helix Park, where the Kelpies live was busy and with half the car park cordoned off for resurfacing I wondered if we'd get parked, but we were there early enough for that not to be a problem. Paid our £2 for our right to park there all day if we wanted, then we went for that walk I'd promised.
One of the first things we saw apart from the gigantic horses heads was a bloke on a paddle board posing on the water and being photographed. He even did a headstand on the board. Poor bloke was wearing a wetsuit top, a life jacket and a pair of shorts. No leggings and no trainers. The temperature was around 7ºc, he must have been freezing. Luckily he didn't fall in.
We walked round the massive statues and found new angles to view them from. Lots of other folk were doing the same. Some with their hands out pretending to feed the beasts, others just getting family groups set up to record the visit. We even saw a wedding photog taking the opportunity for an interesting backdrop for an Indian couple. The groom in a dark suit and the bride in the most glorious ivory coloured wedding dress I've ever seen. So much heavy brocade, it must have weighed a ton! They had a great day for it.
It was cold, but Scamp wanted to have a coffee outside where the view was better than in the cafe. Yes the view was good and the 'millionaire's shortbread' was good too, but cappuccino really should have coffee in it, somewhere. I think I got hot milk. After a while we headed home. It really was getting a bit cool as the sun disappeared behind a big cloud, but we'd had a walk in the sun and visited the Kelpies again.
Back home and after lunch I declared the photos good enough to exempt me from a walk in the cold wintry air, so I started a backup of the iMac before I upgrade it to Catalina tomorrow, hopefully.
Dinner was Cauliflower Cheese with potatoes for Scamp and Mince 'n' Tatties for me with a bit of the cauliflower cheese added in. Scamp had made a Bruschetta for a starter and it was very nice indeed. We had our first Tesco delivery of the autumn/winter season. The first since the late spring. It made sense with all that's going on in the house to get someone to pick it and someone else to deliver it.
We watched the Quatar F1 GP and saw more of the politics rearing its ugly head in the sport. Too many egos in F1 now. But I'm just going over old ground the same old ground I ploughed through yesterday.
I had a great day today and I hope Scamp had a good time too, apart from the coffee. PoD was a backlit Kelpie throwing shapes on the walkway.
No plans for tomorrow. Weather looks not as good as today.