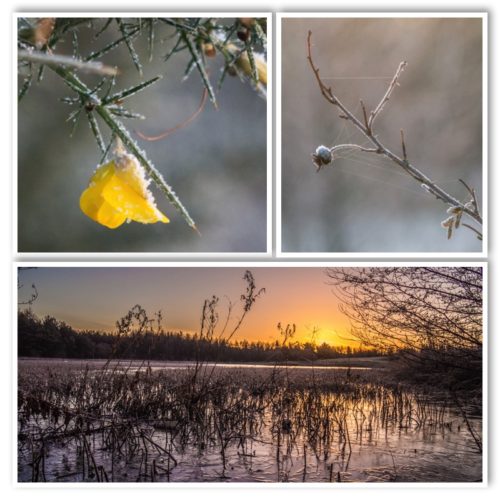 Cold and frosty morning to be more precise.  I got up around half past eight and after making Scamp's breakfast, I went out for an early morning photographic foray into St Mo's.  The light wasn't quite as good as I'd hoped, because the sun hadn't risen above the pine trees and the frost wasn't as thick as I'd have liked.  Probably not enough dampness in the air for a change.  However, I did get a few shots worth posting.  I was just taking my boots off when I got back and there was a knock at the door.  My sewing machine had arrived, delivered by Parcel Force.  Why couldn't JL have told me they were delivering it?  Why must everything be a mystery with them?
After breakfast and a dive into today's sudoku, I had a go at loading a bobbin with thread and doing a couple of trial runs.  It's so smooth and quiet compared to Scamp's old Jones machine.  You even get an instructional DVD with it, showing you the basics of threading it and starting the first few stitches.  Heavens, when we first got the Jones machine over 40 years ago, we didn't have a TV far less a DVD player.  They were as unimaginable as the science fiction of 2001!
I needed to get this 'pure affro' of a hairstyle of mine cut, so we drove in to Glasgow to get it done.  Before that, Scamp bought herself a new Samsung tablet from, of all places, John Lewis!  The price was right and we weren't getting it delivered so I forgave her.  After the haircut, lunch was in McPhee's fish and chip shop and although it was a bit greasy which I knew I'd suffer for later, I enjoyed every mouthful.
That about summed up the day.  Cold but bright with the temperature not rising above zero until the late afternoon when cloud rolled in