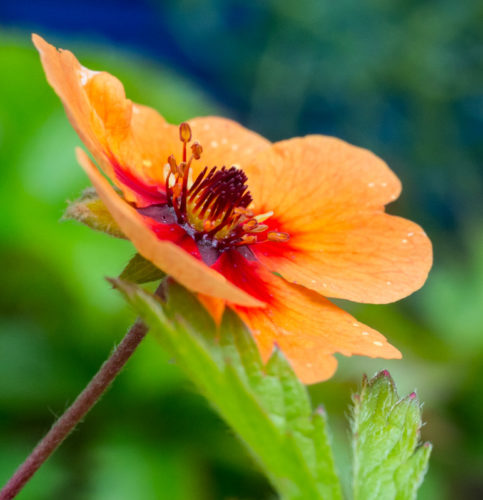 Gardening 24/7? Not for me.
The day started with me doing patient transport to Stobhill so Shona could return her ambulatory BP monitor and I, for one, am glad I don't have to type that phrase again this week. With that done, and the miracle of being able to park just at the front door of the hospital for the second day in a row, I drove home to pick up the loaf I'd baked last night (sorry, forgot to mention that in the blog for the 26th July) and head off to Colin's house for coffee.
He'd sent me his postcode, but I knew there were at least three houses there, so which one? I parked across the road and decided that the first on the list was the best bet, and there he was pottering. Isn't that what all gardeners do in a greenhouse? Anyway, this was a real greenhouse with the heady aroma of ripening tomatoes and earth. It also looked like a greenhouse with trowels, pots, seed packets and plants. I really meant to get a photo, it would have made an beautiful B&W shot. Maybe next time if I'm allowed. His first question was "Where's Scamp". Of course he used her 'real name' which is NOT Scamp. I explained that she was busy gardening, i.e. pruning 'things' and cutting the grass. Oops. Now that I realise what I'd written, it did sound as if Scamp was joining me. Anyway Colin took me a conducted tour of his garden which is extensive and all encompassing. When I saw his show chrysanthemums with their paper hats on, it took me back about 55 years to my Uncle George growing his show chrysanthemums, although he never called them Chrysanthemums, he called them 'Crysants', and thankfully, that's what Colin called them too. Actually, when I smelled the tomatoes, that took me back to my Uncle Jimmy's smallholding where he grew tomatoes. He was always at pains to tell me never to eat a tomato without sprinkling it with salt. Try it with and without. You'll never eat tomatoes without salt again. Jimmy and George were brothers-in-law. The link between the too was Uncle Jimmy's wife, my Aunt Jean and Uncle George's sister. She was a scary woman, but she put up with me eating strawberries on her smallholding when I was supposed to be weighting them for market, because she was my mum's cousin. Confused? Don't worry. There's nothing so complicated as families.
After our garden tour we had coffee and a fairly extensive chat with Colin and Evelyn for an hour or so, before it was time for me to go and I wasn't allowed to go empty handed, so tomatoes, chillies and a cucumber were pressed upon me and off I went. It was a lovely day although the heat was becoming oppressive in the latter part of the afternoon.
Back home we had a wander through our small patch and I got some photos. Star of the day was to be a wasp drinking from the birdbath, but then I got a nice shot of a Potentilla and that immediately became PoD, mainly due to the colour contrasts between the blues in the background and the orange flowers.
Just before we decided to come in after dinner, the first peal of thunder sounded. Later there was some lightning and more thunder. It's even rained a bit tonight, but we really need more. I'm sure it will come over the weekend.
Good day. Really enjoyed the visit to a big garden, however, our own little postage stamp is a lot easier for us to manage. Tomorrow? Maybe lunch in Glasgow and a look for a pair of SPD pedals and shoes.