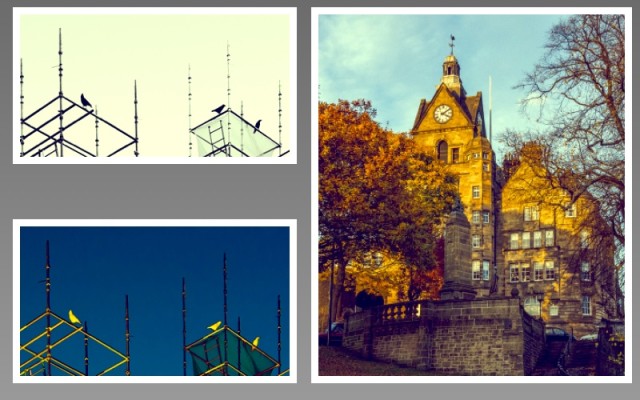 After a brilliant concert by Randy Newman last night and the inevitable late night, today started with a late lie in.  The concert, as I said was brilliant.  Newman's voice in the first half was not at its best, but then he never was a great singer.  Maybe it's just his age showing, but he seemed to be having trouble reaching some of the high notes.  In the second half he seemed more at home with the content and sang all the old faithfuls.  The night was complete for me when he sang Rednecks, premising it with a warning that it contained lyrics that might be deemed politically incorrect.  It was brilliant!
The day had started off with heavy cloud and drizzle.  It lifted a bit by midday and we set off for lunch at Vecchia Bologna in Bridge of Allan.  After that we went in to Stirling.  I wanted ink for my fountain pen and searched all the way round WH Smith's without success.  However, as Scamp said, they had their Christmas stuff out.  Well, that makes up for everything, doesn't it.  The stationers doesn't have ink, but it does have the Christmas junk.  They sell Lamy pens, but they don't sell the refills.  I think they should take a long look at themselves and decide what they are.
Had a look at some lovely paintings in one of the galleries in Stirling.  Unfortunately they also had a selection of Ron Lawson thatched cottage crap too.
Beautiful light on the old sandstone buildings and the trees when we were walking to the car.  This light morphed into a great sunset as we drove home.  By the time we got home, the light had gone and it was growing dark.
We had three sets of guisers (isn't that a better word than trick or treaters – no competition!) at the door this year.  That's much more than we've had before.
Pakora for a wee bite to eat watching 'Strictly'.  Superb!