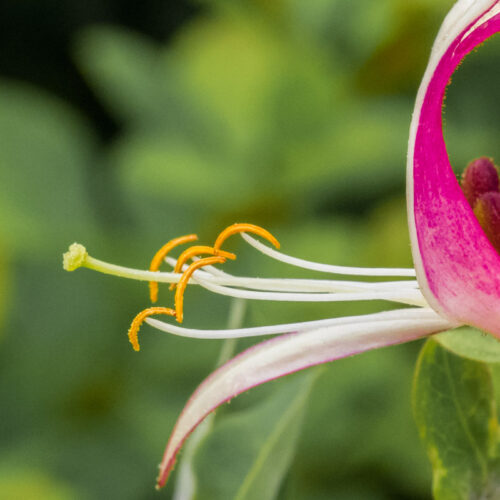 In other words, just the same as yesterday, except the other way round. The morning was bright and shiny today and got progressively duller and wetter as time went on.
Spoke to Hazy in the morning and caught up on all things around and about Epsom. Glad to hear that they, like us are getting out again, even if it is only a run in the car. Later, after morning coffee and a first go at today's 'Fiendish' Sudoku, we revised our plans for the day. We'd initially though about driving somewhere scenic and going for a walk, but the weather was already deteriorating and the sun had disappeared. We decided to have lunch and see if there was an improvement in the situation.
Scamp had been bitten on our walk yesterday and it looked to me like a cleg bite. She'd taken Piriton last night and again this morning. She'd also applied some Anthisan antihistamine and the combination seemed to work. After lunch she took the same medicine before we went out for a walk round Broadwood. Bumped into Glenda Begg  halfway round. She is a Special Needs teacher at the new Academy and had just finished her volunteer shift supervising kids at Broadwood Stadium which is the local 'Hub' where school age kids can go during the summer holidays. She was telling us that today there were three volunteers to 130 weans (I refuse to use the children-and-young-people 'word' that the Scottish Government use for 'weans'). That's a 40:1 ratio. NLC are happy because they don't have to pay anyone and can brag about how they are making provision for under 18s.
Walked back past the shops and bought the makings for tonight's dinner. I was 'chef'. It turned out quite well. Baked Haddock and Cabbage Risotto. Dead easy because the oven does all the hard work.
PoD was a close up of a Honeysuckle flower we saw on our walk. Sketch was a pencil sketch of a beer can (unopened)!
Watched two excellent short videos today, Fatbaws and Larchview. Both are parts of the Scenes for Survival series from BBC Scotland. Google them, they are excellent and there's a lot more where they came from. Really short, around 20 minutes long and some are a lot shorter. So far they all seem to be monologues. Those with little time for reading could always play them in their new car on the way to work! 😉
The weather for tomorrow seems to be much like today was, i.e. better early than late. We may go for that longer walk if we get the chance.