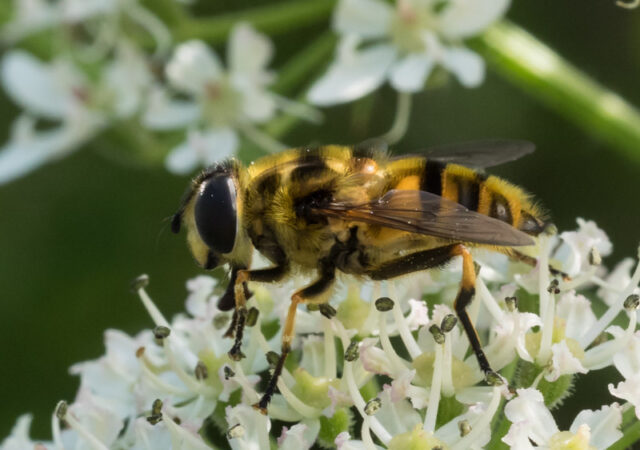 The first half, the morning half we dithered for a while before deciding that it was only threatening. It wasn't going to rain. Wrong.
We intended to drive to Drumpellier park for a walk round the loch if it wasn't too busy. Before we were even out of the estate there were raindrops on the windscreen. By the time we were joining the M73 it was coming down in buckets. Decided we'd probably go to The Fort instead to get some more fabric to make us some new masks and a new sketch book for me.
We sat in the car, waiting for the rain to go off. It did lessen a bit and that was good enough for us. There was a queue, but then there is a queue everywhere now. Eventually we got in and got the fabric and the book. By the time we came out the rain had stopped and all the folk who had been waiting in their cars were now wandering around the shops. Too busy, we decided and headed for home. One last discussion before we reached the T junction. Right would take us to Drumpellier and left would take us home. We decided on Left. As we were driving along, we could see the Campsie Fells in the distance with the sun glancing off them. Maybe we'd made the wrong choice. Doesn't matter, the die had been cast and we were going home for lunch.
After lunch Scamp walked down to the shops to get the makings of today's dinner. I stayed home and started to make the new mask she wanted. I was just getting to the sewing up stage as she was returning.
Later, since the day had improved greatly from this morning's heavy rain, we went for a walk round St Mo's and didn't even wear a raincoat.  Went round the pond twice and that's where today's PoD came from. It's a hover fly, but I can't make up my mind which one. Hopefully someone on Flickr will know.
Dinner was an excellent Scamp meal of flattened chicken in panko breadcrumbs. There's probably a fancy French name for 'flattened chicken', but that's what it is. It was really lovely. My turn to cook tomorrow and my mind is empty. Something will float into that void before tomorrow, I hope.
Tonight's sketch changed from a pencil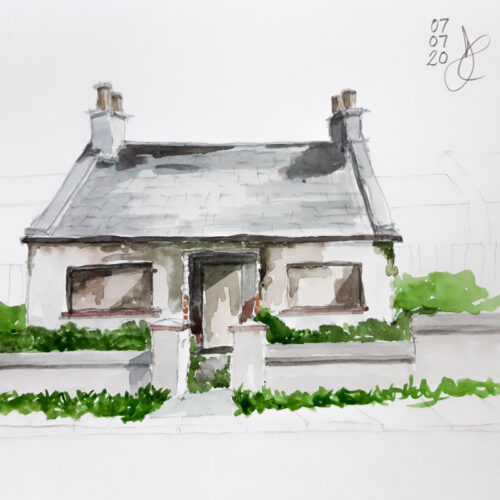 sketch to a painting. It's a house across the road from Isobel in the Village. It's been empty for a few years and is getting really dilapidated now. Water stains all down the walls and paint daubed all over the plywood covering the walls. I liked the desolation of it and enjoyed the exercise. I was painting on slippery HP (Hot Pressed) paper that doesn't absorb the paint as much as NOT (Not Hot Pressed) paper.  I don't use it much, but it's sitting in a drawer and should be used up.  I must get my new paints unwrapped an put to good use. May do that this week if I get a chance. Don't know what we're doing tomorrow. It depends a lot on the weather.