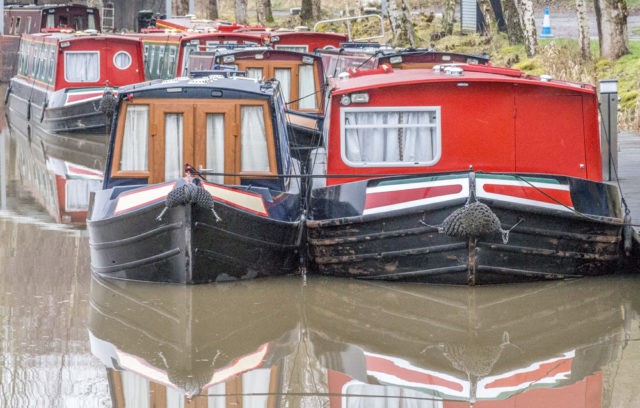 Today centred around Scamp and her ladies singing at a friend's birthday party.  A special birthday party, the friend was 90 today.  She used to be a senior member of Gems and that's why the ladies were singing at her party.  Me?  I was chauffeur and roadie again.  I didn't really mind, because it gave me a couple of hours free to do as I pleased.
I first set out to do some beer shopping in Lidl and then went looking for a subject.  I settled on the Falkirk Wheel where I knew I could find some longboats tied up.  By the time I got there the best of the day's light had gone and a cold easterly wind was getting up, but there were plenty of boats to photograph and with the canal as smooth as a millpond, the reflections were good.  They would have been even better if the water hadn't been so dirty.  Not as dirty as the Falkirk Wheel.  According to the notice near the entrance, its annual maintenance takes place towards the end of December.  I don't know if they didn't do it this year or maybe they are still trying to source the cleaning materials, but the wheel is manky.  There's no other word for it.  The site itself is cordoned off with loads of miles of security fencing and signs saying its a construction site.  That wouldn't be so bad if there was any evidence of construction taking place, but there was none.  I got there at 4pm and the entire place was closed.  Again, giving the benefit of the doubt, maybe they are still working on the winter timetable.  Being more realistic, maybe Central Region just don't care, or don't have the funds to maintain this massive structure.  It certainly is a sad sight just now.
Beer bought, photos taken, I was heading back to the car when I got the call from Scamp to go pick her up.  The birthday girl was looking great and if I hadn't know her age, I'd never have guessed.
Let's hope tomorrow is a better day.
One last thing, I finally got round to adding a gallery of my 28 Drawings Later … sketches.  Do go and have a look when you have time.  They are accessed from Galleries (duh!) from the blue bar at the top of the page.  I don't have a clue where you find them on a phone or a tablet.  Seek and ye shall find!
Remember when you're viewing that it's not the skill or the artifice you are admiring, it's the dedication to put pen, pencil and brush to paper, one day after another for a month.