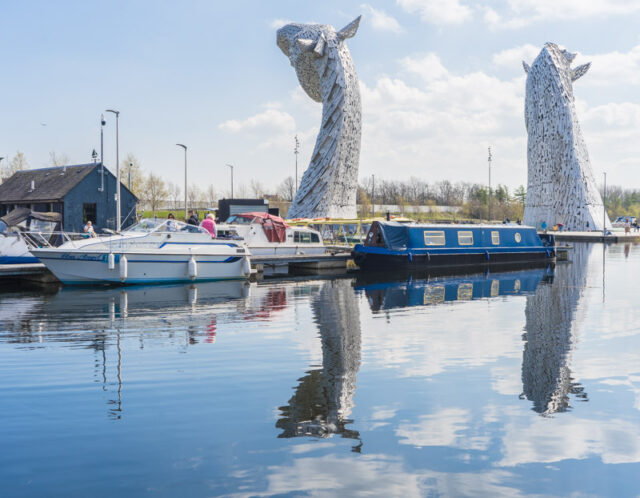 Scamp got the choice of where to got today on our first legal cross border foray.
Anyone who knows Scamp could have predicted the trio of places she'd gladly go to on our first day of freedom. Troon would be high on the list, Cramond would also be up there, but the top destination would always be The Kelpies. So today we drove out of North Lanarkshire and into Falkirk Region which is where the Kelpies live, surfacing from the concrete just between Falkirk and Grangemouth at the end of the Forth & Clyde canal. When left the motorway and headed through Helix Park there were crowds of kids in the park and we thought we wouldn't be able to get parked. In fact I was racking my brains to decide where else we could go. I needn't have worried, the canny folk of Falkirk and around didn't want to pay to see the Kelpies, so the three quid charge for a day's parking forced them to park about a mile away at the Falkirk football ground where parking is free.
The two enormous horses apparently rearing out of the canal should inspire terror on first sight, but they don't for us. They have a calming effect. Every time we've visited them it's been this air of calm that has descended and everyone we've taken there has felt it too. The place was busy, but there was enough open space for everyone to find a vantage point to photograph or simply take in the view of these statues. We had an ice cream cone and sat and watched the world go by. Then we walked over the outfall of the canal and on to the other side.
The last time we were walking along the towpath of the canal we'd bumped into my ex-boss and mentor with his wife. Today, at exactly the same spot we bumped into Dave and Maureen again. Took a few minutes to catch up and then they headed off to meet their grandkids and we walked along to the next bridge over the canal and back past the giant horses again.
We found a bloke selling pizzas from a portable pizza oven and we agreed that we'd found our lunch. First time we've 'eaten out' in months and here we were out in a different county, sitting in the sun eating a mushroom pizza that was wafer thin and extremely hot and tasty.
I'd taken a few shots, but as usual I'd failed to capture the essence of the Kelpies. Today's offering is a view from the towpath of the statues reflected in the canal with a family preparing for a sail up the canal on their boat. We agreed it must be good to just take your boat for a sail any day you wanted to. I doubt if I'll ever know, unless my lottery numbers come up and I believe you have to buy ticket first before you have any chance of that happening.
We heard a loud spoken bloke who apparently lived on one of the houseboats moored there that the boat is always moving, except one time. If the boat isn't moving under you, it means it's frozen solid in the ice. I'd never considered that before. We said goodbye to the Kelpies and drove home.
Back home I took the Sony out for a walk. I wasn't really looking for any more photos, which was lucky as I didn't find any. I did find enjoy the walk and talked myself through some things that are changing in my photography. I'm thinking about selling one of my cameras and a load of lenses that I don't use any more. I'll still keep a couple of bits of glass because there's nothing in the Sony range that does what they do. I put a prospective list in to MPB last night and got offered a favourable price. I'm leaving a final decision until after the weekend.
We had a dance practise tonight. I still can't quite manage the steps for the end of the Tango routine, but the rest of the dances worked quite well.
It's my turn to choose a destination for tomorrow and I have somewhere in mind. We'll see what the weather's like in the morning. Today was an excellent choice, Scamp. A very good day.