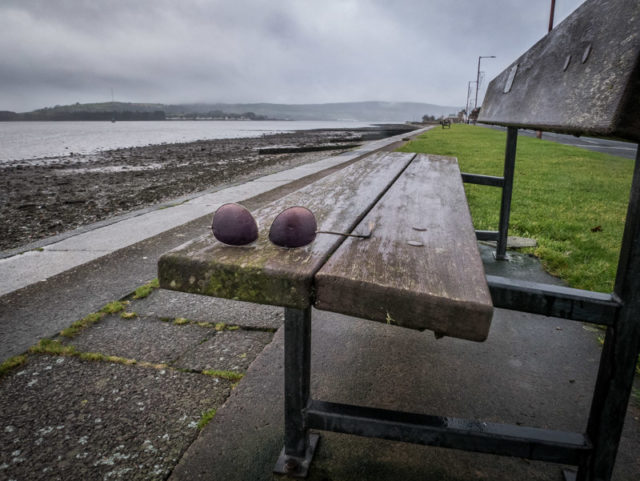 Today we were heading for Helensburgh, despite the rain.
A day by the sea with a bracing walk along the prom would do the both of us a world of good. I'm sure some people would turn up their noses at the idea of Helensburgh (one in particular), but it has the best pizza shop outside of Glasgow. Not that that was an ulterior motive of mine!
Went by the scenic route through the wee villages of about five houses with their 30mph signs and the twisty turny roads. Driving through low clouds that seemed to think they were doing us a service by tipping their rain down on us. Reached Helensburgh without any great problem drove in to the carpark and saw a sign. New Carpark Charges. It had always been free. Surely they hadn't put meters all over the place. Needn't have worried, there was the sign behind the first one No Charge for cars, buses, lorries or motorcycles. Hmm it must only be the occasional tractor or helicopter or perhaps Jumbo Jet that needs to buy a ticket then.
We walked along the prom and that's where I got my PoD. Somebody obviously thought the sunglasses were an optional extra today and left them, intending to pick them up again if the sun started blazing down later in the day. They were still there when we walked back again through the rain.
Walked round the shops which didn't take all that long. This isn't a shopping metropolis, just a run down wee town with more coffee shops and charity shops per head than anywhere we've been for a while. The pizza shop was open, but when we went in I noticed the pizza ovens were off. Was he doing pizzas today. "Not just now" was the reply. This must be the first time we've been to Helensburgh and been told "No!" Maybe the sign of things to come.
Had coffee and a bite to eat in Costa where the coffee wasn't just drinkable, it was good. It must be the baristas or the coffee in Cumbersheugh that's rubbish. It's been good almost everywhere else, other than Falkirk where they teach bad coffee making to would-be Cumbersheugh baristas.
Bought some stew and some sausages in a butchers shop and we headed home via Waitrose to get tomorrow's dinner. Decided to take the M8 road home and it was much more pleasant than the 'scenic route'. Getting near Glasgow I could see the red brake lights in front and a sign announcing slow traffic ahead. It was a queue easily a mile long – I kid you not – to get into the retail park at Braehead. We changed lanes and avoided it, but as we passed the entrance, the single lane queue turned into a four lane traffic jam. The trouble is once you're in that four lane queue, you're committed and have to just follow it where it leads. Glad we hadn't decided to go to Braehead!
Dinner tonight was a Spice Tailor curry which could have been better, the chicken being a bit tough. Scamp kindly said that it was probably tough chicken and not my cooking that was at fault. I knew the truth.
Tomorrow we may go dancing.