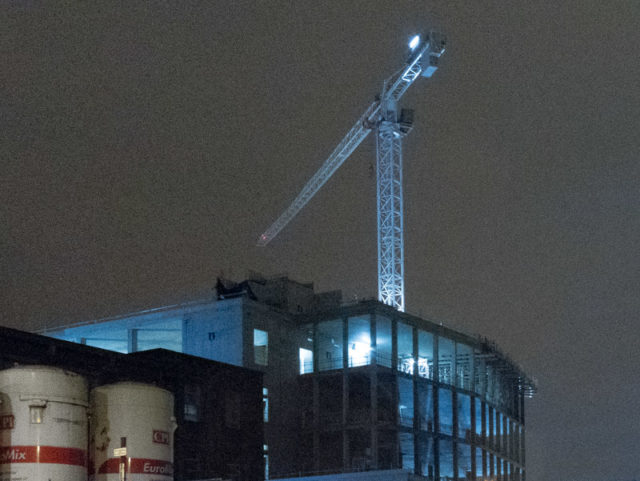 Today was nothing to write home about on the weather front. Just dull and grey.
I did get out for a while in the afternoon, but there was nothing inspiring to photograph. That didn't stop me, of course, but there was nothing in the twenty shots that I took that stood out enough to be a PoD.
Slow cooked Lamb Shoulder for dinner had been started before lunch. Seared the meat in the frying pan then pierced it all over and stuck in some rosemary sprigs, rubbed some salt into the still hot meat and put it in the slow cooker for three hours. I came out nice and tender, although there were a few chewy bits away from the bone. What we in Scotland would call 'Cheuch'. The rest of the meat was fine. Scamp's dinner was much quicker to cook. She had a fresh tuna steak which she cooked like I would cook a steak. Three minutes per side with a couple of minutes standing time. It looked lovely too.
Drove in to Glasgow and got parked right away. In fact there were lots of parking places available. Found out that 12 folk from one of the salsa classes have booked a week long holiday in Cuba and hired a salsa teacher to boot. That would have been a good break, but probably a bit too much 'away time' at the busy start of the year. Danced with a few folk I knew from class and so did Scamp. Managed to remember how to salsa and made up a few 'new' moves that I can't remember now. That's how it goes some days. Still can't imagine two classes being taught at the same time in such a small space and with bar service running at the same time. Good luck with that Shannon.
Spoke to JIC in the evening and he gave some advice on curing Scamp's dodgy tummy problem. She will be out tomorrow morning buying JIC's remedies.
Today's PoD was taken with the Teazer2 from where we parked just off Byres Road. I tried it with a lower ISO and a longer exposure, but this was definitely better, even with the heavy grain.
Tomorrow Scamp has a gig and we are hoping to go ballroom dancing in the evening.