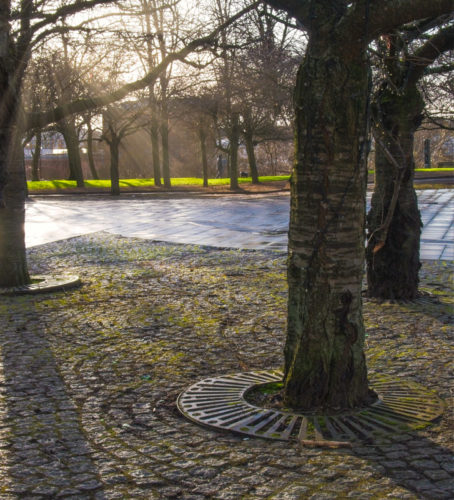 It was bright and it was dry when I was making the breakfast. No lounging around today.
We made the excuse that we needed printer ink and that was why we were going to avoid the crowds by driving in to Glasgow early. We ended up on level 5 of the Buchanan Galleries carpark, partly by design and partly by necessity. We were going for printer ink and that's on the "Toyshop" 1 level, level 5 of John Lewis. There might have been spaces on levels below that, but there were plenty to choose from on 5. We got the last bottles of ink, four of them: Blue, Pink, Yellow and Black, the last ones in the rack. Cost about £35 for the lot. It's an absolute steal when you think that each bottle contains 70ml and an average ink cartridge holds about 10ml and costs the same as that bottle and you still need four of them!
I dumped the ink in the boot of the Juke and noted that in the 15 minutes or so we'd been in the shop the parking spaces on level 5 had almost all been taken. With the main reason for the visit ticked off, we went for a walk. Scamp suggested we walk round Glasgow Green and since it was still a bright dry day, that's what we did. We walked down Bucky Street and along Argyle Street, then zig zagged down to the Green. Walked under the McLennan Arch which is where I got today's PoD from. Well, almost. Because as usual, all is not as it seems. I had to do a bit of cut 'n' paste to get the photo looking the way I saw it in the viewfinder, but that's normal. Walked round to the suspension bridge and watched the rowers chasing each other's tails up and down the river. Walked back past the now barricaded Wintergarden that Glasgow Council seem to want to pretend doesn't exist any more and back into the city. Cup of coffee and a spot of lunch then home. Thought I might manage an hour in St Mo's, but it wasn't to be. We were hardly in the door when the rain started. By the time it went off, the best of the light had gone.
Dinner tonight was Braised Peas with Bacon, Lentils and Cod. It's becoming a firm favourite with us. Quick to make and very tasty. Note: No Potatoes!
That was about it for the day. Much better day than yesterday, even managed my 10,000 steps, but not my 8 active hours.
Tomorrow we're going to do the same thing in a different place. Rain or shine we're going out, or so the plan reads tonight.
---
So called because it's the level with the technology 'toys' for sale. It's a sort of creche where women leave their husbands to prowl and drool over the lovely toys in the glass cases. While they go and browse the sensible stuff like dresses and washing machines. ↩