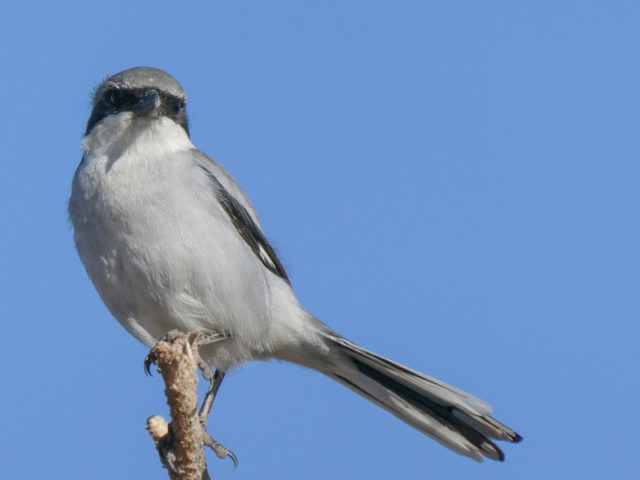 Another scorcher for our last full day, but there were a few clouds in the sky.
Grabbed those two seats again. The ones we could rotate to face the sun. Heliotropic is the word. Lay there baking for a few hours before our peace was broken by Pepe doing his round of the pools. Pepe, by the way is a multicoloured caterpillar with a big friendly smile, and is the emblem of the Kids Club at the Elba hotels. All the kids seem to love him (and at least one adult too). Once Pepe had done his round, we went for lunch.
After stuffing our faces again, Scamp headed back for more sun while I headed off to the badlands for one last walk on the wild side. Today I chanced upon a Southern Grey Shrike that was perfectly happy to pose for me. Didn't see any evidence of its 'larder'. Shrikes are known as 'Butcher Birds' because they hand their kills on the spikes of bushes. Viscious wee devils! I finally found some of the green and yellow rock plants I'd been looking for. I presume their bulbous leafs store water to see them through the dry spells. I also found a 'Mother of Thousands' plant looking quite graphic with its dark leaves against a light sandy background. A host of Painted Lady butterflies and a Snowy Egret completed my collection of flora and fauna for this visit. On the way back I saw one of the blokes with the carabiners and the ropes from the other day, abseiling down from the roof to wash the windows. Nice way to spend your day.
Back at the hotel, Scamp was just finishing off a cup of sangria delivered to her by a dubious Ladyboy with a dodgy lopsided wig. So she said, anyway but she had no photographic evidence to prove her story and she was just finishing off a cup of sangria. I rest my case.
The night was spent packing and consuming a few more G 'n' Ts. Probably a few more than was good for us, but it was the last night and tonight's entertainment was Bingo or a Quiz. G 'n' Ts won.
PoD was the Shrike. First one I've seen on Fuerteventura although I did see a few on Lanzarote.
Tomorrow the dreaded flight home.