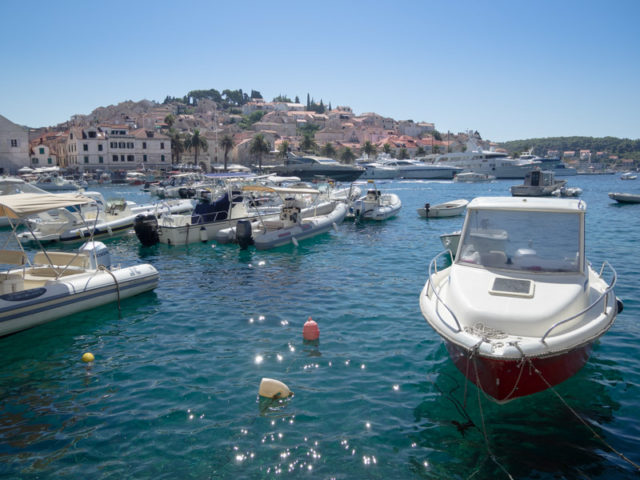 The only port where we had to use the tender.
If there's one thing P&O are good at, it's organising. Waited in a queue to collect our ticket for the tender which was really one of the lifeboats. About 15 minutes later we were called to board the Skylark. Just a ten minute jaunt to the harbour.
We walked around the bay and took a detour up through a sort of park with Corsican pines growing everywhere. We could smell the pine resin blowing in the breeze. We also found a Cicada on one of the trees, initially pointed out by an American man. You always hear cicadas in warm climates, but it's rare to see one.
Walked on and found a posh hotel with a low level infinity pool. Turned back at this point and walked back by a lower path. Stopped at a cafe and had a bottle of Staropramen each, then a coffee. Nice wee place where you can watch the hundreds of wee boats in the harbour alongside enormous yachts. We watched a dog jump off a boat and paddle to the shore, almost beating the couple who were rowing to the shore from the boat. I'm guessing it was too warm to be a guard dog today. We got free WiFi at the cafe too. Not many places seem to have free WiFi these days, or at least I didn't find any.
Back at the ship we saw the polis in a speed boat huckle some poor punter and his pals. At first we thought he'd been exceeding the speed limit in the bay, but it began to look a bit more serious and they weren't for letting them go again. Never found the reason, but it certainly spoiled someone's Sunday.
We decided to try dancing again because Roy & Andrea (the Lovely Jubbly dance teachers) had the night off and one of the entertainment team was playing the tunes. We asked for Desposito and danced a fairly decent Salsa to it. The girl playing the music complemented us on our Armography. I'm guessing it was a complement anyway! Lovely and Jubbly were watching too, but didn't say much. I think it was a case of "We are not amused."
PoD was the view from the cafe.
Things I remember about the pretty little town of Hvar:
You must not go topless in the town. That rule applies to both sexes.
The swimming dog
The smell of the pine resin
The Cicada
The old lumpy tree who's trunk was held up with a wooden post.
It's a nice quiet looking town and we'd go back there if we got the chance. However, not tomorrow, because that's Venice!