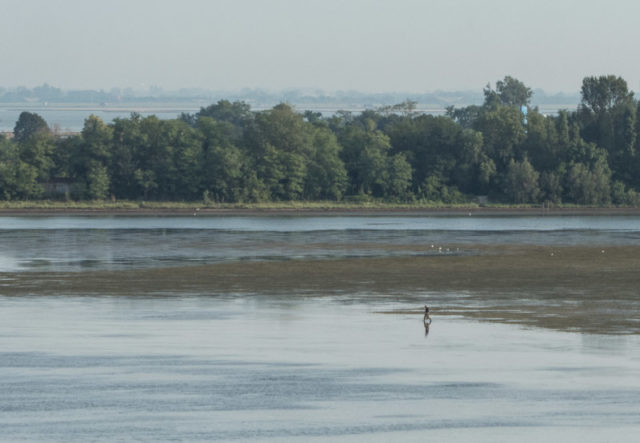 Today was Venice and it was Scamp's idea that brought breakfast to the balcony.
You get so used to the ridiculously expensive 'opportunities' from P&O, but not solely from them, others do it too. A couple of times we've had cards through the cabin door, or waiting on the bed telling us that we can have champagne breakfast delivered to our cabin for only £25 pp. They just become part of the background 'noise', simply ignored. Then you realise that you're on your holidays and simple luxuries are there to be had at no extra cost. So it was that, on Scamp suggestion, we order a 'normal' breakfast to be delivered to our cabin for the sail in to Venice. Surely one of the great arrivals of the trip. We sat in comfort watching Venice slide past while we enjoyed our orange juice, cereal and pastry!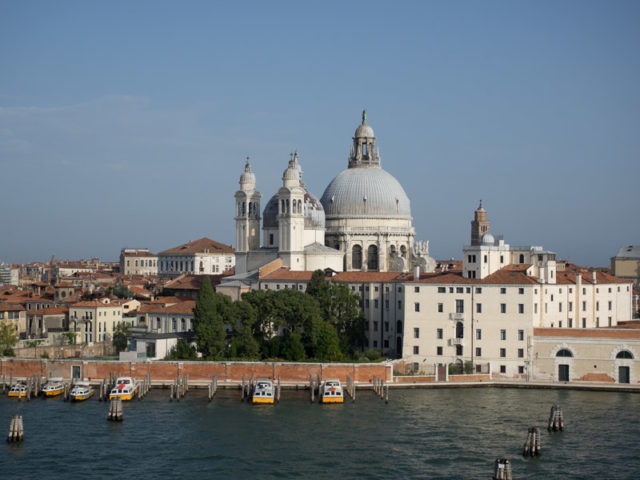 We've joined the crowd on deck on a couple of occasions watching the sail in and listening to the commentary, but it's no fun trying to see over the heads of the three layers of people who were probably up at 5am staking their claim to an area of the ships rail. So much better to be sitting on your own balcony and watching without having to crowd with the great unwashed! The sail in took about an hour and a half and was orchestrated by two tugs at the front and one tug at the back of the ship just to make sure that no boats got crushed this time. It seems that this might be one of the last times a cruise ship will be allowed to sail past St Mark's Square. Plans are afoot for a cruise terminal outside the city.
After our al fresco breakfast and the chance to watch this city slide past our balcony we joined the queue on the dockside for the water bus to take us to St Mark's Square and Venice proper. The ten minute journey took us to just outside the square and dropped us in the University area. A short walk and there we were with the rest of the tourists. After a few wrong turns we found the canal side cafe that has become a traditional morning coffee and cannoli stopping point for us. Since we had only had a rudimentary breakfast we added a small pizza each to the menu and I had a Salt Beer which was very good. More like 'heavy' than lager.
Wandered around some more and Scamp got a bead for her Pandora bracelet. I saw some cute little goldfish bowls complete with goldfish, made entirely from glass. They were in varying prices, ranging from €30 to €10 the further you went from St Mark's. Didn't get one though. Saw a selection of bow ties too on the Rialto, but decided I could probably make one for a fraction of the price. Scamp liked a set of giraffes and I would have chosen two glass cats in a posh shop in the square, but there were no prices displayed! I think my favourite was a silk shirt for a 'Special Price' of €340 with a matching tie €50. I got neither, of course.
Got the water taxi back to the ship just as it was beginning to rain, another tradition in Venice. Due to sail at 5.30, but waited for over an hour to get clearance from the port authority and for the tugs to arrive so we could leave Venice for Split. Because we were so late leaving, the sail out wasn't as dramatic as the sail in, but we sat there and watched it all flow past anyway.
PoD is a shot of a man collecting shellfish from the sandbanks at the start of the sail in. Just imagine as you go to work tomorrow that this bloke probably does this every day. Beautiful scenery, but backbreaking work.
Tomorrow it's Split in Croatia. The last port on the cruise before Valletta in Malta.