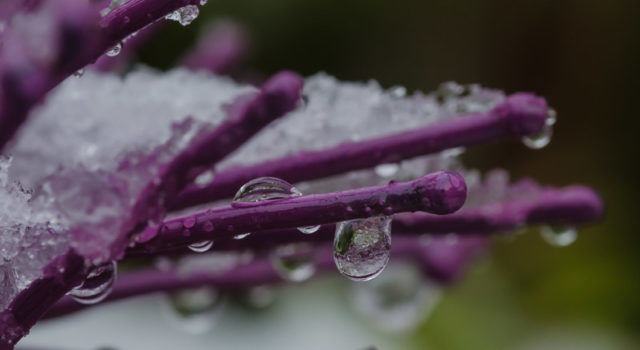 We woke to snow today. Not lots and not long lasting, but still snow.
It was one of those mornings when we rejoice at being retired. Not for us the scraping of the windscreen and then the slow drive to work, single file in the tyre tracks of the car in front. No, back to bed with a cup of tea and a good book. Rivers of London (book 1, Hazy). The snow came and went for most of the morning before eventually tailing off and then the slow drip, drip of the thaw started, but not before I grabbed a camera and got some macro shots of the snowmelt on the plants in the garden and also on the metal allium feature in the back garden. That's what achieved PoD.
The furthest we went today was Tesco and only after we were sure the road was clear of the white stuff. Tonight the snow is all but gone, but the temperature is down to -2ºc as I write this.
January is a time for hanging up calendars, but I found we had misplaced one of ours. It was in a polythene bag at the side of the wardrobe in the bedroom and it came from Sardinia. It started us checking back through our photos to see what Alghero, Sardinia looked like. Scamp usually does a screen grab of the temperature every day we are on holiday and in Alghero in June it was 27ºc. That's a nice thought to end with!
Tomorrow will probably another dancing day. I may go and get three half pans of watercolour paint to replace the ones in the Joan of Art paintbox Hazy bought me a year or so ago. I liked the tin, loved the idea and the tiny little brush, but hated the colour selection – too acidic for me. I'd been painting tonight and decided it was time to warm up the colour selection.