Another day removing the snow from the paths and from the cars.
Scamp started the effort by brushing the snow from the roof of her car. Then while I got rid of the rest of the snow on mine and ran the engine for a while to get rid of the condensation that gathers on all the glass surfaces, Scamp started to get rid of the snow that had accumulated on the path in to our house and the next door neighbour's. Most of it was wind blown snow, but a small amount was fresh snow. When she was finished and the car was dry inside, I used up almost all of our remaining white salt to make sure the path stayed clear of snow and hopefully of ice.
After lunch we went for a walk down to the shops, more for the exercise than for any great shopping expedition. I think we bought more food for the birds than for ourselves. The plan was for Scamp to walk back with the bags and I would go for a walk in St Mo's. I changed it slightly to walk up the path behind St Mo's school and along a path that I've walked many times, but today I was wearing wellies and I could just wade through the areas that I usually have to avoid because they're too deep for my leaky boots. It was like a whole new landscape with hardly any landmarks because everything was covered in a white duvet of snow.
Went for a walk in St Mo's and followed some deer tracks for a while, but never saw the maker of the tracks. The tracks looked fresh, but either they were hiding somewhere or were just over the next hill, or the next one again. PoD was a whin bush covered in a shiny ice crown. Shot into the sun it really sparkled. Everything else I took was just a cliché snow picture.
By the time I was coming home it was chilling down again and the temperature when I got to the house was -0.5ºc and it felt about a degree below that. We had bought some fat balls for the birds, so I put three of them on a tray in the back garden. An hour later they were all gone. I suspect it may have been a big black crow or a magpie that was the culprit. Even a flock of starlings wouldn't devour three fat balls that quickly.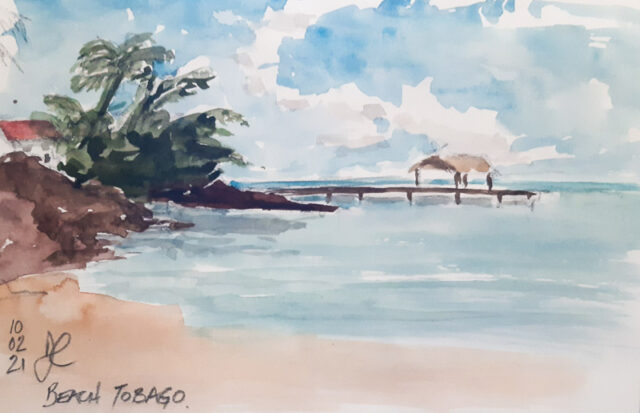 Yesterday's sketch, posted today was the beach at Pigeon Point in Tobago. If you're going to draw and paint a beach, make it a peach of a beach. Pigeon Point fits the bill.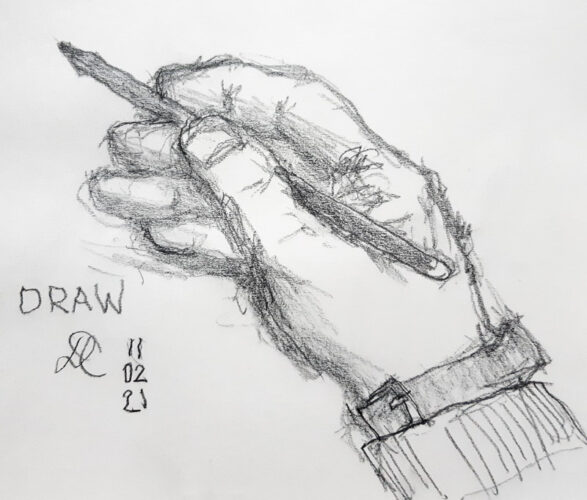 Today's sketch is a strange one. The prompt was 'Draw'. What I drew was my right hand holding a graphite stick. If my right hand was the model, then my left hand was the one that drew the sketch. It's harder than you think drawing with your left hand. Even knowing exactly where you want the lines to go, doesn't mean that your muscle control will ensure it goes where you intended. A worthwhile exercise.
Tomorrow I might manage to get my car out for a drive. Today I got it to move, but not far. Scamp may have to wait until the mountain that's in front of her's has melted away a bit before she is mobile again. Other than that, it's wait and see what the weather brings us.