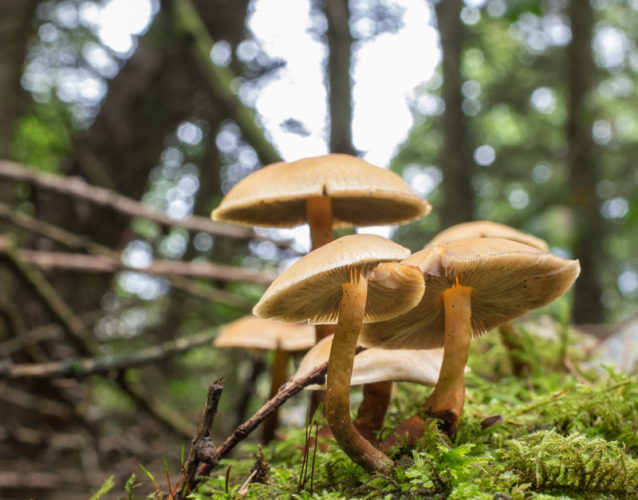 Flu jag on a dull day then problems solved.
At least 10 folk before me in the queue to get their flu jag, but I'd barely had time to fill in the form before I was called. No problems with it so far and if it keeps the flu away from me, I'll be a happy bunny.
What to do with the rest of the day on such lovely afternoon with threatening rain that would soon be more than a threat? We went to lunch, that's what we did. Drove to the Cotton House which has been completely renovated. No big fish tank taking up half the width of the restaurant, just a skimpy wee narrow one as you walk in. It looks like there are now fewer tables too with discrete little booths dotted around. Actually, I preferred the old style. However the one thing they haven't changed is the menu or the chef. Thank goodness for that. Still got Spring Rolls and Chicken Noodle Soup as starters for Scamp and me. Scamp went for Chicken Mushroom which looked very like Chicken Chop Suey and I had the traditional Chicken Chow Mien. Both delicious. Slightly smaller portions than before, but quite adequate as a lunch. We hadn't booked, so were given a one hour time slot which meant we had to forego coffee. We'll be back again, hopefully soon.
I offered to drive to Robroyston so that we could have the coffee we'd missed and Scamp could browse Watt Bros and I could browse B&M. Slumming it today you see. I found the tablet support I'd inadvertently dumped in a skip last week for the same price as the Ikea version, but it appeared that the tills were down and judging by the vacant look on the cashier's face, his brain was down too. Oh dear, I should have known that it was just too good to be true. Gave up after five minutes and no sign of the meltdown ending, so I left to find Scamp in Watt Bros looking a bit worried as half the displays were empty. Surely Watt Bros weren't going to the wall too. We'll accept some things, but Watt Bros failing is a step too far. Where will she go for Christmas prezzies now? Maybe it's just a re-stocking exercise and everything will be glittery, red and green for Christmas soon. Hopefully.
The coffee in Costa gave us a chance to unburden ourselves. We were tentatively booked for three Christmas Balls. I love the Salsa Christmas Ball, but I hate the venue which is the Classic Grand. It's a glorified bingo hall. It's manky with a capital M. It's dark and I reckon it's also a fire hazard with those narrow exit stairs. Basically it gives me the creeps. Strangely, Scamp felt the same, she also complained that there weren't enough seats, so we scrubbed that one off the list.
Michael's Christmas Ball is in the Redhurst Hotel which is out on the southern edge of Glasgow and is a nightmare to park at. I don't mind that, but he, being a drag artist, is always wanting to drag (no pun intended) that into the night somewhere. It gives me the creeps. Scamp doesn't really mind that, she just doesn't like the venue. Agreed, we scrub that one too.
Finally we've been offered a place at a table at the Christmas Ball hosted by Stuart and Jane (our good dance teachers from the cruise). We are both agreed that we should accept that one. So Scamp said she'd confirm that as soon as we got home. All that sorted out over a Flat White and a Latte and a pastry each. Two minds set at rest. Two balls cancelled. One ball accepted and, Scamp being as good as her word, texted the confirmation to Stuart and Jane when we got back home. Done and Sorted!
When we got home, I decided to go for a walk in St Mo's to get some foties. Luckily there were some fungi pushing up from the forest floor and the little umbrellas became PoD.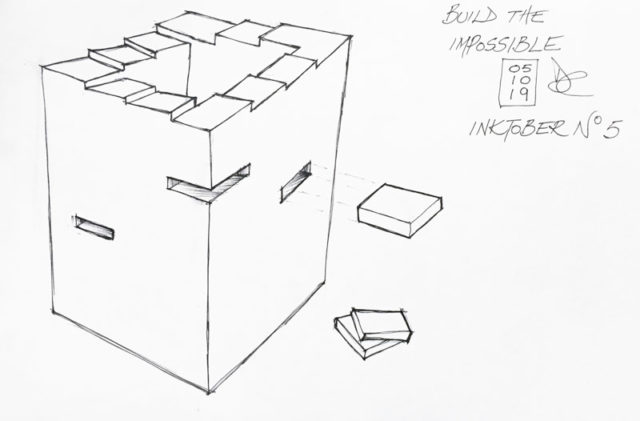 Topic for today's Inktober was 'Build', so my answer was an Escher-like impossible stair.
Tomorrow I was thinking of going for a walk along Glasgow Green, but that may depend on the weather. It's raining now.