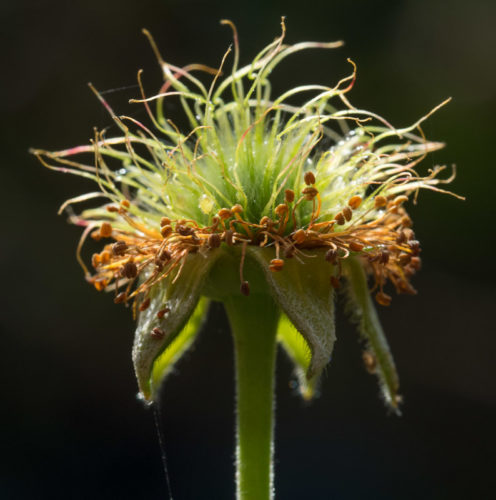 Text this morning from Shona looking for a bit more security work in the flat.
It seems that Ben has been playing in the bathroom and splashing water everywhere, so much so that it was dripping through the ceiling of the flat below.  Could I fit a hasp or a bolt to stop him getting in?  Would it be possible to have some form of lock?I went to have a look and it was a fairly easy job to fit a slip bolt.  The other option was to put on a hasp and staple.  That would be more difficult, but would allow a padlock to be fitted to secure the door more effectively.  Drove up to B&Q and walked straight in.  Almost no queue.  Hooray, things must have calmed down.  Got what I wanted and joined the long queue to pay.  It was well policed and the queue went down quickly.  Walked out and saw that there was indeed a queue now.  In the twenty minutes or so I'd been in the store, the queue had grown from 0 to about 300m long.  It pays to shop early, it seems.  Back at the flat, I got the door secured in about fifteen minutes.  Back home in time for lunch.  My only fear now is that with Ben being almost a teenager, he'll be strong enough to pull the hasp off the door and I'll be back fitting a lock with big bolts holding it in place!
After lunch, despite parts 2 & 3 of my Amazon delivery arriving,  a black monkey appeared on my shoulder and I couldn't shake it.  It might have been partly due to Nick the Chick's latest pronouncements about entering phase 2 of The Release.  It appears that we are still expected to travel no further than 5 miles for leisure and exercise.  She also said that outdoor outdoor markets, playgrounds and sports facilities will reopen on 29th June, along with some visitor attractions such as zoos – although visitors should still not travel more than five miles from their homes to visit them!  Do the people who make the rules even talk to one another?  Does anyone know of a zoo that is within five miles of Cumbersheugh (Carbrain doesn't count, because it is part of Cumbersheugh).
Scamp suggested a walk and that was probably what what managed to shift the black monkey.  It's a long time since I've had one and I hope it's a long time before one returns.  Spoke to Lynn D and her husband when we were out and we both bemoaned the missing overseas holidays this year.  We should have been off next week to the Mediterranean on a cruise ship and she should have been jetting off to the Canaries the week after.  Hopefully the weather will stay warm and sunny at home and we'll get to go to Scotland this year (if we're allowed to extend that five mile rule).  No photos taken on the walk, but it contributed a great deal to the 10,000 steps I've just recorded.
Sat with a beer in the garden when we came back and took a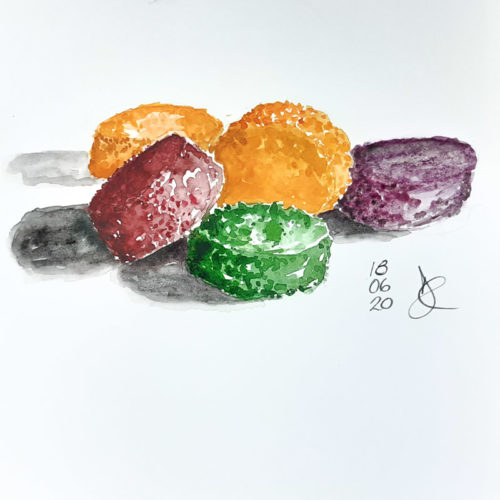 few shots of the flowers.  Favourite was the seeding Geum with it's chaotic tendrils.  I made it PoD and called it Boris!  I don't know why.  Second place went to a macro of a Lupin flower.  Both will be accessible on Flickr after I post this. Sketch today was Something Sweet.  I chose some Rowntrees Pastilles.  Much more difficult to draw than I thought.  The light was fading when I was sketching them, so I took a photo and sent it to my tablet, then drew it from the image on that.  Cheating slightly, but it worked for me.
Tomorrow we have no deliveries, so hopefully we can go out somewhere 4.99999miles away.