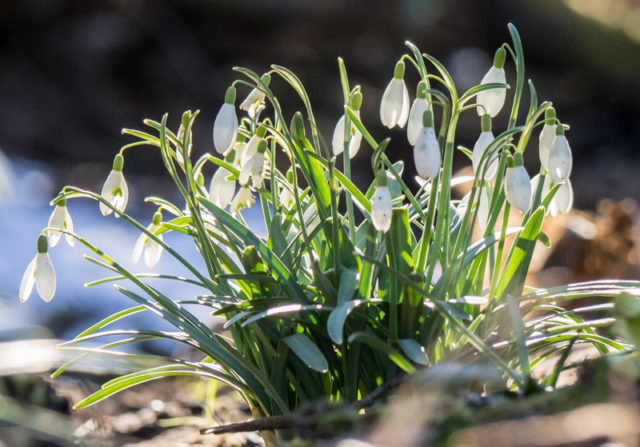 Today was just a Monday.
After lunch Scamp went to collect some of the Gems ladies and reported that it was a lovely day.  I had been considering an afternoon at the gym, but it looked so good with blue skies, sunshine and light winds that I changed my mind and took the car out to Bishopbriggs to have a look at the Linx 12×64 2 'n' 1 laptop.  Unfortunately in contradiction to their website, they didn't have one.  Allegedly they had one in Coatbridge, but I wasn't in the mood for a run out there and anyway, a walk would be much better, so that's what I did.
I drove back to Cumbersheugh and parked down by the station then went for a walk along the Luggie Water which is where I got today's PoD, a bunch of Snowdrops.  Thankfully most of the real show is going fast.  Warm breezes and some direct sunshine is doing the good work.  Got talking to a bloke walking an enormous Alsatian.  It started off with us complaining about  the state of the Luggie and the dearth of fish in it these days and finished with him telling me his life story.  Eventually I did manage to get away.  I felt kind of sorry for him because he just seemed to ramble on from one thing to another.  It was almost as if he had nobody to talk to and didn't want to let you go.  Maybe I'm reading too much into it, but I had to get home to make the dinner before we went out dancing.
Dinner on a Monday is pasta.  At my mum's it was always mince 'n' tatties on a Monday.  Here it's pasta.  Today, for a change, I thought I'd make a version of one of Scamp's favourites, Spaghetti dello Chef which is spaghetti with vegetables and cheese.  Mine was spaghetti with onions, mushroons, tomatoes, peppers and capers.  Finished with parmesan shavings, fresh ground pepper, salt and extra virgin olive oil.  It was a success.
Salsa tonight was the usual chaos in the first class with lots of old moves and a few new ones.  Second class was equally chaotic with a few old moves and a few new ones.  Can't remember the names of them all, but today's new move was Stormtrooper 2.  We also went over Stormtrooper 1 and the one that's still called 'The New One'.  Apparently the cost of a block is going up for the first time in 10 years, from £35 to £40.  Nobody objected.  It's still good value.
Tomorrow, if it works out as the weather man says, will be another good day with more sunshine, temperatures scraping under double digits and light winds again.  Scamp wants to go into  the garden.  I might get my bike out.