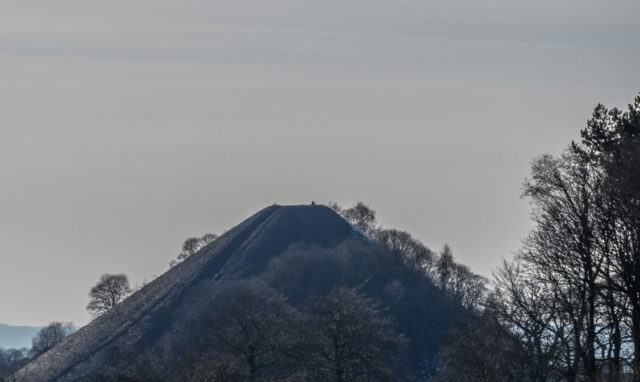 And I quote:
"Tomorrow, if it works out as the weather man says, will be another good day with more sunshine, temperatures scraping under double digits and light winds again. Scamp wants to go into the garden. I might get my bike out."
Well, it did turn out as the weather man said.
– It was another good day with sunshine.
– Temperatures in the sun were probably scraping the double digits.
– The winds were light
– Scamp did go into the garden
– I DID take my bike out
Scamp started clearing up the front garden in the morning, the back garden is still under permafrost. I cleared the snow off the back step, finding the mat in the process. I then attacked the ice with a spade, but gave up when I got to the stuff that was welded securely to the concrete and resorted to a chemical attack. Instead of Novichok, I used table salt which melted the ice really quickly. Meanwhile Scamp was trying to eradicate an influx of tiny white maggots from one of her containers. She eventually gave up, washed the offending plants and dumped the compost in the brown bin (garden waste). Then she tidied up the front of the window area to let the daffodils have some air and light. The garden looked so much better after that.
The coffee I'd ordered from the Bean Shop in Perth arrived just in time for lunch and after sampling some, I got dressed to go out on my bike. Glorious day if you were in the sun, quite cool in the shade. Cycled to the old tip and that's where I got today's PoD which is the Kirkintilloch Volcano. One day I will climb the Kirkintilloch Volcano and sit like this person did, just enjoying the view. There, that's a challenge for this year.  I also got a photo of a newt.  Not great or crested, but a newt.  I've never seen one in St Mo's and this is the first one I've seen for years.  Stood and watched the trains go by and listened to the silence, if you know what I mean.  It was simply wonderful to be out in the air without that cold wind dragging you down.  Maybe spring is just round the corner.  Glad I took advantage of today because the weatherwoman says it's going to rain tomorrow. Worse still, Wunderground says it's going to rain tomorrow and I trust Wunderground more than I trust the weatherwoman, Kawser Quamer.
Made chilli for dinner while Scamp had Rats which is her shorthand for Ratatouille.
Tomorrow is Dancing, Dancing, Dancing day we hope because we missed it last week.