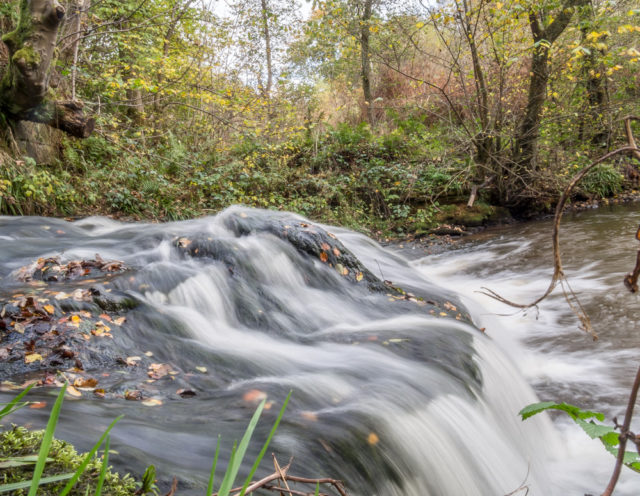 Some days are interesting, some days are not.  Today was not.  We had a few loose end to tie up today and we got them done.  Scamp was feeling better, or she said she was feeling better.  Photography was covered with a walk in the wind and the rain along the Luggie and I got a fairly decent shot of the wee falls upstream from where I usually go.  I had to take the shots in between chasing two dogs who wanted to be in the photo.  It's an ok shot, but nothing spectacular.
We drove in to Glasgow tonight and did manage to catch the last 20 minutes or so of the beginners class, a minor miracle in itself as when we entered the motorway the CITRAC signs were telling us that it would take 51 minutes to reach the airport.  On a good day it takes 17 minutes.  Apparently Rangers were playing at Ibrox and the road was full of mad Gers fans.  After a few 'long roads for shortcuts' we did manage to reach the STUC building in just under an hour.  That was forty minutes more than our journey back home, an hour and a half later, after half a beginners class and our own Wednesday class.  I think they should ban football during the week, or on Salsa days anyway.  We weren't the worst by far.  Poor Roy S took 2 and a half hours to get there from Alloa.  Having said that, Alloa is on the outer reaches of the galaxy.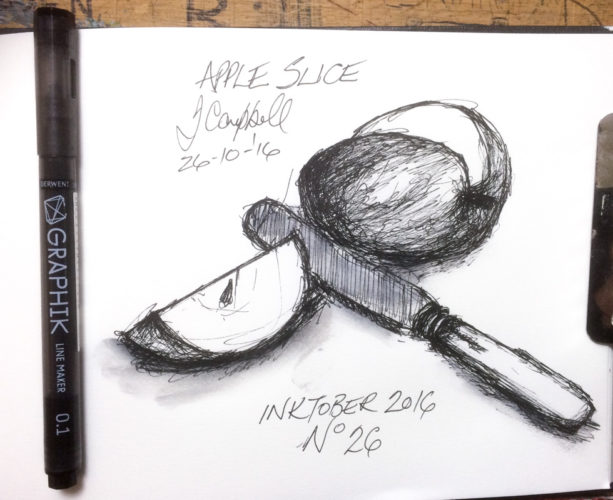 Today's Inktober is a sliced up apple.  The knife is an old bone handled one that, I think came from Scamp's mum.  The handle recently broke and rather than throw it out, I glued it with Epoxy resin.  Old traditional bone handle repaired with modern adhesive.  I like that.  We've both found that we're using the old bone handled knives more than their plastic or stainless steel handled modern counterparts.  The old knives have a much better feel to them and a lot more character.
Maybe going to Glasgow tomorrow, but we're driving in.  I think the bus journeys with all the sneezers and coughers is what's given Scamp the cold.  I don't want it, and I want her to get over her dose as well.  I might even get some architectural drawing done into the bargain.  Who knows?  (Question mark or not??)