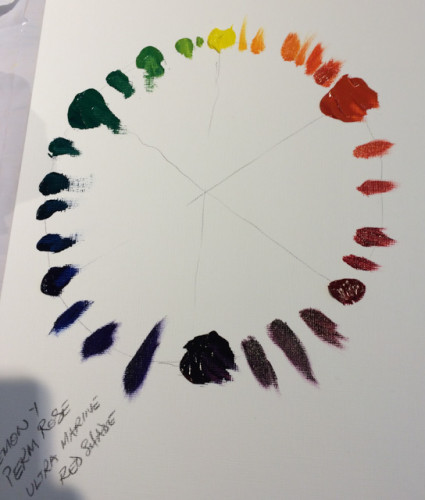 Late getting to bed last night and up fairly early this morning. Fred P was picking me up to go to a colour mixing class at Cass Art in Glasgow. It didn't turn out to be the most interesting class ever, probably the least inspiring I've been to in fact. However, it did make me smile when one woman managed to get the sleeve of her pink sweater in the deep blue ultramarine oil paint and then spread it across the front of the sweater too. It's the sort of thing I would do, but I was circumspect this morning and dressed in my oldest rugby shirt – and I didn't get a mark on it!  All we did really was make a colour wheel, something I've been teaching weans to do for donkey's ages.  The example above is about the best photo I've taken today!
Poor Fred is stuck in the Talk Talk debacle and needed to get home pronto to go to the bank, so we didn't have the usual casual wander around town, setting the world to rights. Shame.
When I came home it turned out Scamp had been in to town and back again today too, so there wasn't any point in going there for lunch. We finally went to Milano's, after finding out that we couldn't get a table at Cotton House.
Last night I'd received an email from the Vodies saying that my old iPhone had been unlocked and to complete the procedure I had to fit a new sim to it and connect it to iTunes. This seemed a strange procedure, but I was willing to give it a go, so we headed off to Tesco to get a 99p sim. Came home and after two resets and a carrier settings upgrade, it sprung into life and announced that it was connected to Tesco with three bars of signal strength. At last, the Vodies do something right.
That was about it for the day. Scamp is singing with Gems at Abronhill tonight and I am alone writing stuff and sketching.  I'll go to Tesco and put a tenner on the phone tomorrow and I'll be in business as Mr Phone with two iPhones and a Samsung.
Don't call me – I'd just get confused which one was ringing – I'll phone you!