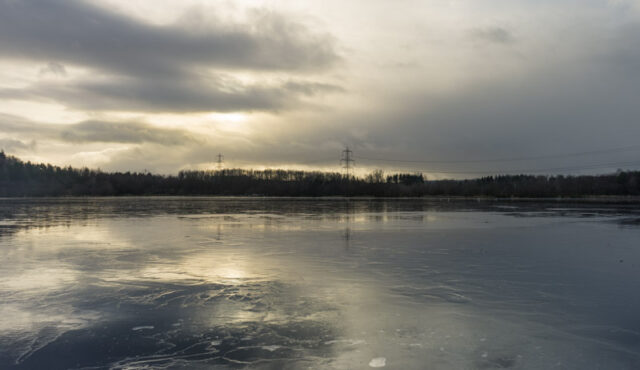 It was raining when we woke and it stayed raining until early afternoon.
When the rain switched off for a while, we went for a walk. Down to Broadwood Loch today along, with what seemed to be, hundreds of others. At first I thought there might be a football game on, or a BMX race perhaps. Both stadium and BMX track are close to one another and sandwich a big parking area between them. That big parking area was full of cars when we walked down over the boardwalk and across the dam. But it was neither the football nor the BMX that was drawing the crowds. It was the sunshine and the fresh air that enticed the people to leave their cars and walk round the loch. A conveyer belt of people, it seemed like, were walking round the big pond in both directions. We took a different route and walked round the exercise machines instead. Easier to maintain social distancing there.
We continued our walk up under the underpasses at the roundabout and it was there that the rain returned. It had made a tentative attempt at a shower earlier, but this had definitely the look of a whole afternoon of rain and that's what it turned out to be. I could have sneaked in a quick circuit of St Mo's, but I'd forgotten my phone and felt slightly compromised without it, so I joined Scamp and walked home instead.
I was in charge of dinner tonight and it was to be Lemon Chicken with Za'atar. Lots of lemons and lots of spices in a complicated recipe with a marinade. However it followed the standard rule of Acid, Oil, Salt and Spices or Herbs, so I trusted it. It was soon mixed up and put in the fridge to infuse with the chicken breasts for a couple of hours. Time to wash my red Bergy jacket that really, and I mean REALLY needs washed and proofed. With that done and the photos (all three of them) reviewed in Lightroom, it was time for a cup of tea.
Two hours later the chicken came out of the fridge smelling 'interesting'. Poured it into a roasting tray and slid it into a hot oven for 45mins. Meanwhile I picked PoD which was a view looking across the ice sheet that covered Broadwood Loch. All three were the same view in different formats, portrait, landscape and squint. I picked my favourite and uploaded it.
Chicken came out of the oven smelling beautiful and so it tasted. All that prep had come good in the end and even although I don't really like lemon in food, I enjoyed this recipe. Definitely worth making again with some subtle changes.
The big deal of the day was our first virtual dance class with Stewart & Jane. After a dodgy start when they started teaching a different version from the video they'd sent us, it worked out well and we coped with it fairly happily and without too many mistakes. Roll on next week. Today was Rumba part 1 and Mambo. Next week we continue with Rumba. Learned a lot tonight and enjoyed it.
Spoke to JIC and heard more detail about his recent good news. We can't say too much about it just now, but glad he passed his MBA with Distinction. Well done that man.
Tomorrow we have no plans, other than to get our Tesco order. If it's dry we may go for a walk. If it's not we won't. I've got a letter to write and the final Christmas decorations to put in the loft.