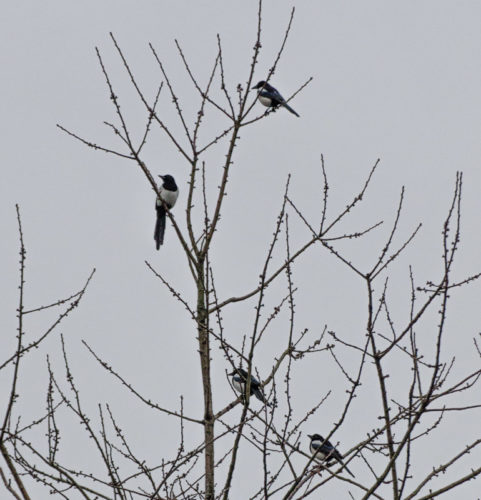 Well, not on the wall yet, but hopefully quite soon.
Today the red Juke took us to Falkirk to look for a shaving mirror for me. Scamp was determined to replace the one she'd bought me for Christmas from JL. I've tried to tell her it just needs a wee bit of glue to secure the base, but she won't listen. It's not the best designed, or manufactured bit of kit I've ever seen, but it didn't cost the earth either and apart from the demountable base, it does work well. We couldn't see any better mirrors in the two shops we were in, but we did see some large room mirrors which we'd been discussing. Incredible variety of styles and bling and incredible prices to match. I think we've narrowed down the range to a few front runners now.
After the retail park, we went to Morrisons for some essentials and something for tonight's dinner. Oh yes, and lunch. Lunch turned out to be a bowl of chips for Scamp and a roll 'n' sausage for me. Fairly standard fare, but cheap and cheerful. While we were there I got a text from the dance shop to say that my shoes were in and the replacement soles for the old ones were there too. We considered driving over after lunch, but I eventually decided that the traffic would be too heavy on a Friday about 3.30pm and also I didn't have a PoD and I might just have enough time to grab one in St Mo's when we got back. We'll visit the dance shop tomorrow, all being well.
I did get a few potential shots, but the only one that worked well was another magpie shot. Not just one bird, four. This is a case where four in a bush is much better than one in the hand. You wouldn't want a magpie on your hand. If you did have one, you'd need to count your fingers carefully afterwards! However, the birds in the tree was my PoD.
Made a veggie chilli from the Bosh book tonight. Very time consuming to make and not all that tasty when it was finished. We couldn't quite put our fingers on the problem, but there was a sour taste somewhere in the sauce. I don't think I'll bother making it again.
So, we're hoping to visit the dance shop tomorrow. Other than that, we have no plans.