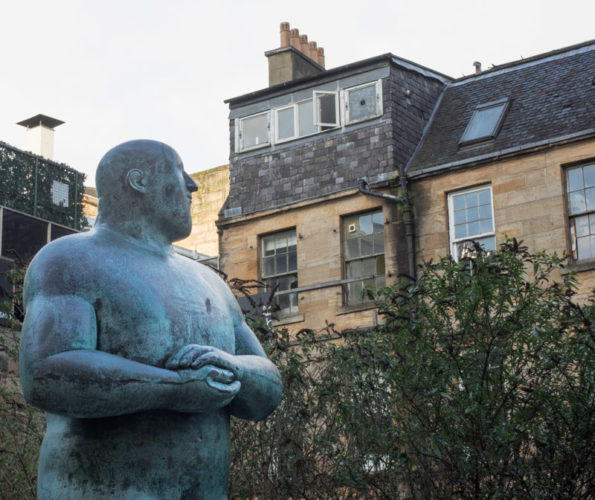 Still sticking to the "up and out" ideal, (yes that was Ideal, not Idea!) just not driving today.
Walked to Condorrat to get the fast bus in to Glasgow. In the town we went for coffee first and then went our separate ways for a while. Scamp went looking for a cheap tartan skirt for the tartan ball. I went to look at a camera in Jessops. Found the camera, but the security cable on it was about 20cm long. How am I supposed to try out a camera that I can't even get up to eye level? Gave up. Next one I wanted to look at had a similarly short steel cable and also the attaching clip was pointed straight at me. If I'd managed to get the camera to eye level, that clip would have caused me an injury. When an assistant asked me if she could help, I tried to explain the danger of the protruding clip. She then explained condescendingly that they need the security because ".. people do try to steal things you know …". I tried to explain that it wasn't the security cable, but the protruding clip that I was concerned about. She seemed to realise that a sale was not imminent and finished the conversation by asking if there was anything else she could help me with. I said "Don't bother, I'll just take my business elsewhere." Jessops seems to be in trouble, financially, again. With staff like her, I can understand why.
Still fizzing, I met with Scamp further down the road. She hadn't found a skirt. We tried one of the plethora of cheap 'Scottish' shops that have invaded Glasgow and Edinburgh. Kilts made from cloth you could spit peas through, for £15. Nothing she would demean herself with there either. We agreed to split up again and meet up in Princes Square.
I was looking for a refillable reservoir for one of my Lamy pens, because '28 Drawings Later' is looming next Saturday, the 1st of February. I expected I would get one in The Pen Shop in Princes Square, but I might just pick one up in Cass Art. No, Cass Art failed me on that, none. Walked through to The Pen Shop and on the way got the PoD which is a statue by Shona Kinlock called "As Proud As" with reference to the peacock which stands behind the wee man. On to The Pen Shop. They didn't have the adapter either. Neither did whatever Millers is called now, but they did have some black ink, so I got that at least. They suggested other places, but as Scamp was on the last stop on her Tartan Tour which was M&S and I was meeting her there and then going for lunch which I hoped would be Paesano, I decided I'd try Amazon instead. We met and it was Paesano who would be graced by our presence. I was delighted!
Just two of our usual pizzas, but because we were bussing, not driving, I was allowed a glass of house red!
Up the road to the bus station and grabbed one of the new route X25 buses. It's a lot faster than the sluggish X3, but slower that the Stagecoach X something-or-other. Best of all, its new route takes it past the new shops, so as we needed bread we could get the bus to the shops today!
It was jolly exciting sitting in a bus that was driving down past St Mo's and St Mo's school, round the roundabout and stopping at the bus stop just at the new shops. You can tell we don't get out much, can't you?
That was all the excitement we could stand for one day. Oh by the way, Scamp did get a tartan(ish) skirt. Tomorrow we have no plans.