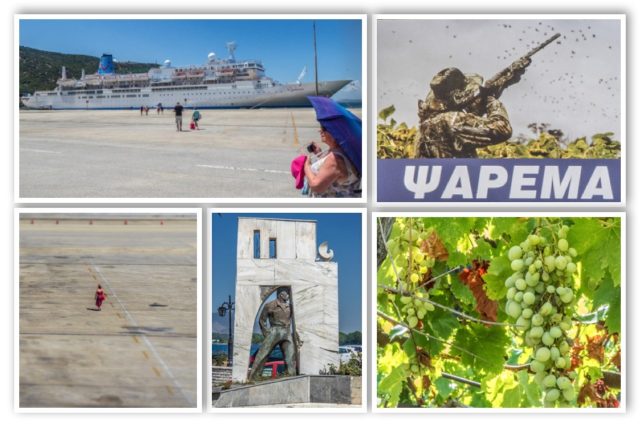 Today we were in Igoumenitsa. You become a bit disillusioned when you read on the daily bulletin that there is nothing to do or see in this port. So, why are Thomson taking us there? I suppose the answer must be so they can sell more excursions. The rest of us could go to hell, or go to Igoumenitsa. I don't think there would be much difference.
We had intended to get a taxi into town, but nobody wanted to take us the short run into town. There was only one taxi and he seemed more interested in getting us to go on a longer trip. We gave up eventually and walked into the 'town'. Along the way we passed a few 'grey hairs' who were walking back. None of them had actually made it to the town. Surely it wasn't all that difficult, or that far. It wasn't. After about 15 minutes walking we reached the outposts of the main town, with some uninviting cafés and bars and a supermarket.
The town when we found it was nothing special and the bulletin was correct, there was very little to see. Certainly no antiquities or scenic views, just a wee Greek town trying to get by when the country is bankrupt. I found a shop selling ground coffee by the usual method of following my nose. It smelled enticing so I bought 250g of what the bloke said was the favourite blend of 50/50 dark and light grind.
We went for a cup of coffee and then walked back to the ship. On the way we stopped to get some 'messages' at the supermarket. We always try to bring back something useful from our travels and this year it was cinnamon sticks, coriander and sweet paprika. We also got a bottle of tonic to mix with the gin I bought on Monday.
We were late sailing away from Igoumenitsa (isn't cut 'n' paste wonderful!) because one of the coach parties was an hour late getting back. When we were watching the stragglers plodding across from the customs house the bloke standing at the rail next to me was incandescent! He was jumping around, making rude signs at them and shouting. Worse still, he was Scottish! Then I remembered where I'd seen him before. He had been on our cruise with Royal Caribbean when the aircraft broke down at Palma and we were taken to Magaluf to an 18 – 30 hotel to rest overnight while the spare part was brought from the UK and the mechanics fitted it. He was demanding that they fitted it that night. I remember him shouting "I've just been on a cruise with ROYAL CARIBBEAN and you expect me to stay here!!!" As if that would make any difference. I know I fly off the handle at times, but this guy was flying out of orbit! Nutter. He's the kind that gives morons a bad name.
We finally sailed away from Igoumenitsa and on to Kotor tomorrow. Tonight we were having posh dinner for the second time this cruise and looking forward to it after a boring day.
I liked the sign top right. The midges must be really bad here. They shoot them with shotguns!