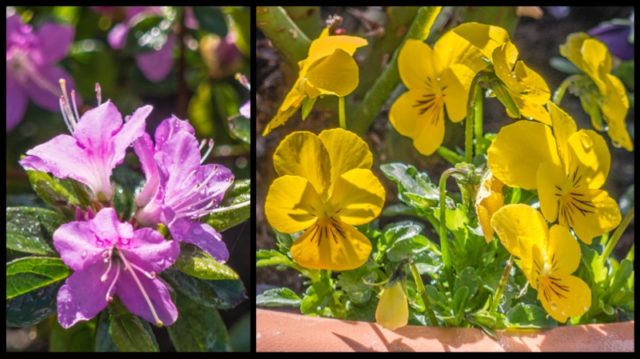 Went to give my blood donation for testing for diabetes and lots of other things. Came home and enjoyed a plate of porridge by which time the cloudy skies were breaking up and blue sky was shining through again. Later, after lunch I went to the gym, the first time in weeks, and it felt like it. I really must get into a more realistic regime to utilise this fitness resource. I don't think once a month is going to be good enough. While I was on the torture bike, the video for 'Moves like Jagger' was on the screen. I don't usually watch or listen to the music videos that play in the gym, but I did in this case.
After returning from the gym and without a photo, I grabbed a few shots of flowers in the garden. Scamp had just given them a drink with the hose and the water beads made them a bit more interesting. White pasta for dinner AKA Spaghetti Carbonara. We ate it watching Pointless, a must watch in out house. One of the questions was about 'Moves like Jagger'. Now there's a coincidence.
For a wee bit extra exercise tonight, I drove in to Glasgow on a lovely balmy evening for an hour of salsa and an hour of bachata afterwards. During the bachata we were practising a move called Elvis Presley and the teacher said "I don't have any Elvis tracks, but I've got the next best thing. You guessed it, 'Moves like Jagger'. I think it's following me.