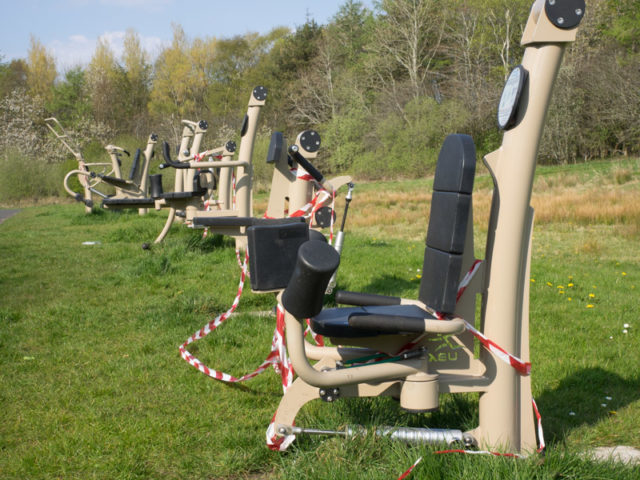 All done within twelve hours of the hottest day so far.
Started the day by talking to Hazy. Always a good start to the day. I've now got instructions for making a Fat Quarter mask. Not like the one Isobel made with 8, yes EIGHT, layers of material. Her daughter asked if she could breath through it, to which she replied "No, I've got to take it off to breathe." Methinks this defeats the purpose of a mask. Found out how everything was going down south and good to know that the 'Nancy Pretty' is growing well and starting to flower in foreign climes.
Next thing to do was to test the coffee maker and see if there are any improvements / alterations I can make. Found some interesting hints and tips on the Gaggia site, but nothing that really related to what's going wrong with mine. Eventually gave up and made a slow cup of coffee that really tasted good. Maybe good coffee just takes a long time to brew.
Next thing on today's agenda was to find out how to get the autopilot to work on the Garmin 530 navigational computer on the PC12. I got some useful hints and tips on a website last night and today I put them into practise and they seemed to work. The plane followed the flight plan I'd fed into it. One thing ticked off! Time for a seat in the sun just for a chance to catch some of those 20º rays. It was very pleasant sitting there with just a gentle breeze that didn't seem to know which direction to come from, so came from them all.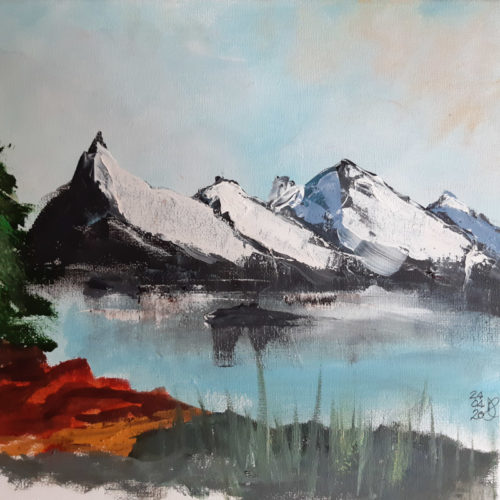 Now I needed a painting for yesterday and possibly another for today. I started with a copy of the Bob Ross painting I'd watch him complete yesterday in less than an hour. I set to to repeat the process using acrylic paint on a canvas, although now I suspect he was using oils. Surprisingly, the finished art work passed the critical judgement of my panel, Scamp and Fred. Both agreed it worked, although both suggested different improvements that could be made. I ignored both, of course and just did what I wanted to do. Second drawing was a pencil sketch selfie done looking in the mirror. It's not bad, but it looks like the artist as a young man. Slightly dishonest, but still there's a hint of me there.
We thought we might do Golden Bowl for dinner tonight and I pumped up the tyres on the Dewdrop and took it over to Condorrat to find out if it was truly open. Spoke to a young Chinese lady who was checking for customers and they were indeed open for business. Phone orders only and there was just one person waiting for his collection. Cycled home and phoned in the order. It was on the way back that I got today's PoD. The outdoor gym machines tied up with red and white tape to decree them off limits. A token gesture.
Half an hour later I cycled back to collect our meal. About ten other hopefuls were waiting too, but it wasn't long before I took my chance and asked for my collection. Paid for it cash, which in itself is unusual these days. Chicken Chop Suey and Fried Rice (x2) was great after having cooked for ourselves these last three or four weeks. The bike ran well, but I think the front wheel bearing needs some attention. It's either that or the front disk brakes need alignment. Enjoyed the run in the sun.
It seemed as if the next door neighbours on our left were having a party tonight. Scamp reckoned it was someone's birthday. They'd sneaked in the back way and Angela had let down a ladder so they could climb up into the garden. Isn't it a shame that people feel the need to go to such lengths just to meet up with family. In a way these restrictions are taking away people's human rights. If a family want to be together to celebrate a birthday, they should be allowed to do so as long as they realise the risk they are taking. We are moving towards a police state these days and some folk think that's a good thing. Some folk in power, that is.
We did a wee bit of ballroom practise tonight and then to round the session off, two Salsa tracks to see what we could remember.
Well, the best of the weather looks like it's past. Next week we run the risk of rain and single digit temperatures. Oh well, it was good while it lasted and it lifted our spirits too. No plans for tomorrow.