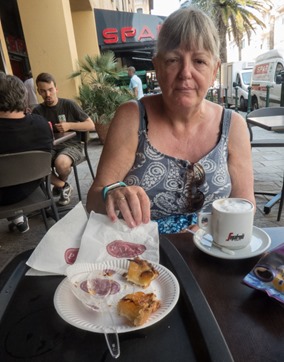 Today we were in Ajacio, in Corsica.
Corsica is a little bit of France stuck in the middle of the Mediterranean, next to Italy.  It's where Napoleon was born.  There are statues of him round every corner.  We wandered through a market and then went to a Spar shop to get tonic for the G&Ts.  I was also running low on coffee for the Oomph so I bought some Mexican coffee there.  Next to the Spar was a wee bakers.  We stopped there to share an apricot tart with our coffees which Scamp said were too strong.  She always says the coffee is too strong.  Walked through the town half looking for a restaurant we'd been in two years ago.  We didn't find it.  Finally went back to the ship and got stopped twice at security.  Not the coffee, me.  I get fed up with all these security checks.
Went for a swim in the indoor pool which had its ceiling retracted so it was an outdoor, indoor pool today.
Dinner was in the sit down restaurant. It was also a 'dress the dolly dinner' (a black tie dinner.) You've seen ostriches?  You know how their eyes are large and sort of stuck on the sides of their head?  And they have long eyelashes?  The woman sitting next to me must have ostrich genes in her DNA (that's probably the wrong scientific description JIC.) She really looked like an ostrich. Even worse, the bloke sitting opposite her told her she had the most beautiful eyes of anyone he'd seen on the ship.  Maybe he was an ostrich too.  I think he'll also be a dead ostrich now after his wife deals with him.
Show tonight was about musicals, but modern ones.  The only bad one was That Bloody Lion King which I detest.  Other than that, it was great.  Headliners are a really good show company.
Tomorrow it's Naples.  Land of the Pizza.