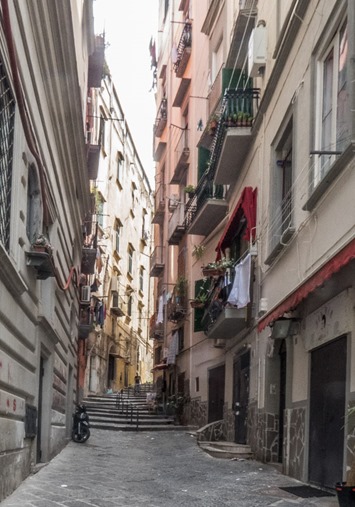 Naples today. 28c predicted and achieved.
Yes, it was Naples today, but we weren't in a rush. We chose to spend most of the morning in and around the pool. It was quietly relaxing with all the maddies off on tours round Sorrento, Capri, Pompeii and Vesuvius. Us, we were going looking for a pizza shop. In Naples. It has a few pizza shops!
We never did find that pizza shop, although I was sure I knew exactly where it was … a few times. I knew it was on a side street to the main road that was up a hill. Scamp knew it was to the right when you left the ship. It turned out both of us were wrong. We wandered round some of the seediest parts of Naples and that's where I got today's PoD. Some really dodgy areas near the docks. A bit like Carbrain. Ok to walk through in daytime, not worth risking at night. I'd hate to have a new car in Naples. Every one we saw today had bashes and scrapes. Some were missing windows, nearly all had broken lights or cracks in the windscreen. It's when you see the traffic and when you try to cross the street, you realise how they get into that state.
We eventually gave up on our search for the ultimate pizza shop (that's twice in two days!) and settled for a busy pizzeria near the port. It was all going well until I tipped over my beer and soaked the table. It was all sorted quickly. Table was cleared and we were moved to another one. A fresh pint was brought at no charge and we both had our pizzas. Mine was a bit underdone, but it wasn't until I started to eat it that I realised it had no sugo (tomato sauce). Another silly mistake. Had an extra glass of wine just to be sociable and paid about half the price we'd have paid at home, so left a good tip for the entertainment and good humour of the waiters.
Going through security today was much more laid back. I triggered the alarm going through the scanner. The Italian polis looked at me. I said "Shit. Forgot my watch." he shrugged and said "OK." That's how it should be done!
Back on the ship we both decided we'd have a light dinner at Smash & Grab, and that's what we did. Went to a really awful Tropical Party on the pool deck which consisted of drunk punters shouting a lot. Not my idea of fun, nor Scamp's. Ended up going to the posh, quiet downstairs bar for a Long Island Iced Tea for Scamp and a Jolly Olly IPA for me.
Early bed again and more of the same tomorrow in Civitavecchia, but without the beer waterfall, hopefully.