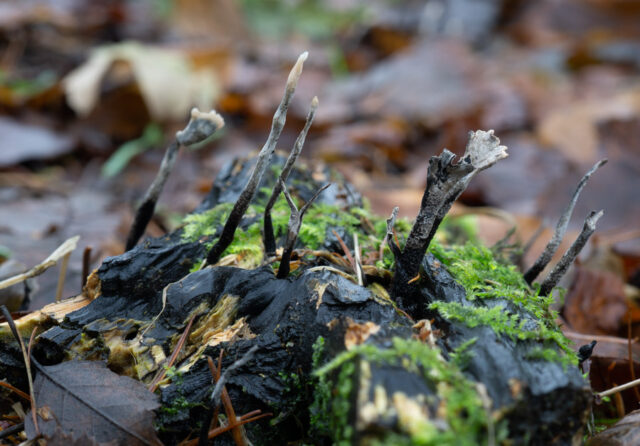 The weather didn't look too clever, but then, neither am I. So I went out.
It was really dull this morning. In fact it turned out to be really dull all day. I took two cameras, but ended up only really using the small A6000. As insurance I took my Gorilla pod and was glad I did. I found a patch of Stag Horn fungus on a well rotted log. Light was really low already and it was only 11am. Since there was no wind to move the fungus, I could use the Gorilla pod on the ground to hold the camera and take the shot at a very low shutter speed but an equally low ISO. That gave me a sharp smooth photo in very low light. Suffice to say that I only took one shot and was satisfied that I had a potential PoD.
With one in the bag, I went for a walk in the woods and to my surprise I found a ladybird hibernating deep in a crevice in a tree. It was a 14 spot Orange Ladybird (Halyzia sedecimguttata). I've seen them before in the woods, in fact for the last two years I've seen them hibernating from November through to March. I had to get a photo, but the 50mm lens was a wee bit short for the task and I couldn't use my Gorilla pod on the tree to steady the camera. I eventually got a reasonable image after hiking up the ISO to noisy levels.
By this time the rain was starting, so I put the hood up on my Bergy and walked home. As I was getting near to the house, the rain changed to sleet and the temperature was dropping. I was just taking my jacket off in the house when I looked out the window and it was snowing. Big fat flakes of the white stuff. We weren't due any snow until nearly midnight, this isn't what we signed up to. Never mind, it was tomato soup for lunch and it tasted good. Felt warm again. I think it's the colour of the soup as much as the taste that makes you feel warm. Whatever it is, it worked.
After lunch I drove Scamp to the dentist through the sleet that had come after the snow, and then drove to Tesco to get some messages. I was just at the checkout when I got the phone call to say she was ready to come home. This was a lot earlier than we'd anticipated, but there was a reason for that. She hadn't got her tooth fixed. The dentist had examined it and told her she'd need to come back to have the work done. The appointment is for the 25th of February 2022! That's three months in the future!! Of course, Covid was blamed for the delay. They are short staffed just now and they need to wipe down all the surfaces after a consultation, etc, etc. She still had to pay for the 'consultation' though. Really it's getting ridiculous now. Three months wait to get a tooth fixed. Maybe we need a different dentist.
I drove back and picked up Scamp who was just disappointed, but resigned to her wait. I looked at my photos from the morning with the occasional glance outside, but the sleet had stopped and the sky was actually lightening, but it didn't last. The sun was low on the horizon now and night was closing in.
Dinner tonight was a Scamp speciality, Chicken, Mushrooms and Rice. It was ages since we'd had it and it tasted great. Posted my photos early, which was lucky, because Flickr is down now. And the fungus did get PoD.
Ordered myself a new-to-me lens mainly for the A6000 it's a Sony 55-210mm zoom. Not best quality, but it's got built in anti-shake and I can afford it. Coming on Friday hopefully.
Jamie phoned tonight to say that his interview in Doncaster had gone quite well and he was satisfies with his performance. Now he has to wait until January. It seems that everyone has to wait for something these days.
No plans for tomorrow. Threats of heavy snow overnight have been removed, but will the snow know that? We'll have to wait for that too!