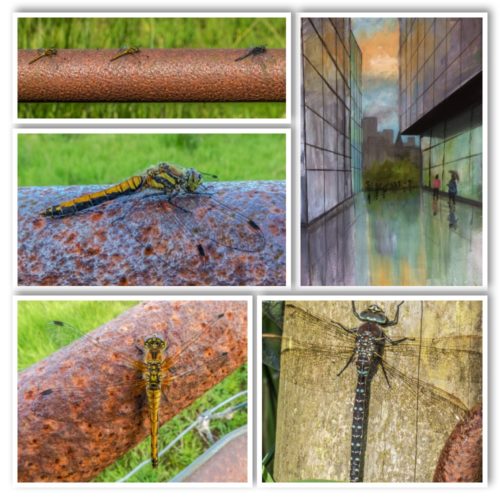 Phone call this morning from the nurse to say that the podiatrist was off ill, so my appointment today was cancelled and I'd be given a new one. Five minutes later the nurse phoned back to say that another podiatrist had been contacted and my appointment was back if I was still available. I was.
Spent the morning putting the finishing touches to my painting. When I got to the point where as Whistler allegedly said "I can do no more to it", I stopped and tore the A2 sheet from its spiral binding and hung it on the wall. Ostensibly to dry, but also to see if I would still like it when I walked past it occasionally. I did and it's still drying. If I hadn't it'd be in pieces in the bin by now.
After lunch I got ready and went to meet the podiatrist who signed me off as having a fit pair of feet, which was nice. Just what I'd expected.
Dinner tonight was exactly what I'd intended. A ragu made with the pulled meat from the dinosaur bone, served with some ribbon past I found in the back of the cupboard. It was very nice. Great way to use up the meat.
Salsa tonight was a bit frantic. One move in particular had me tied up in knots. It was called Balsero Dos and I hope Jamie G forgets about it next week, but I doubt if he will. We also did Disco(very), El Paraguas and Guanabo.
Found one of the limitations of the dashcam tonight. The detail in night driving is very poor. During the day it's fine, but the contrast is so high at night and the frame rate and the shutter speed doesn't allow for any detail to be recorded. This was pointed up when we were passed by a boy racer along Westfield Road. When I reviewed the footage, you could see it was a red car, and that was it. No detail. Useless as evidence in an accident.  Luckily we didn't need it.
Today's PoD is of a bunch of dragonflies I found sunning themselves up at Fannyside. There were an incredible nineteen of them all snoozing (I think) on an old rusted gate. One even let me get to within 30mm of her (I checked, it was a female Black Darter). All the photos were taken with the Teazer. Just shows what you can do with a point 'n' shoot camera these days.
Early rise tomorrow when we're off to the hospital in Glasgow for Scamp's checkup.