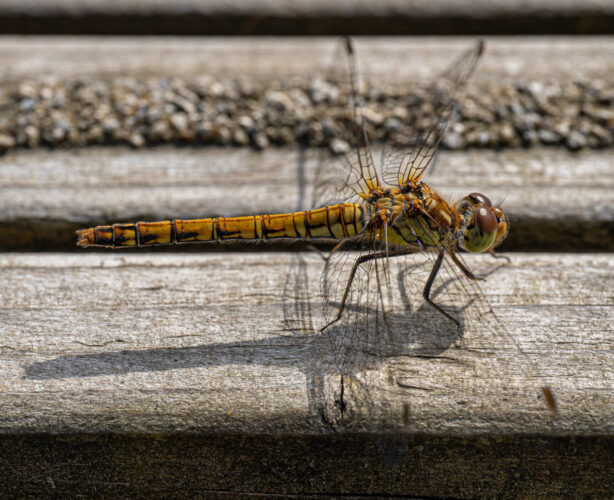 The beasties in question were dragonflies and damselflies.
It was a lovely morning and we'd nowhere in particular to go. Scamp went off to get some messages at Tesco and to see what mess the roadworks at the roundabout were creating. Apparently it was a bit of a mess, but that's not a surprise. I imagine it was even worse by 5pm when the factory traffic heads that way. There has been warning notices out for a week or so and we'd worked out alternative routes to take the avoid the congestion. Scamp had taken one of them and bypassed most of the stramash.
After lunch I had a look round my indoor garden of basil plants and chilli plants. The basil was drying out and took a fair amount of water to pump up its leaves again. One of the good surprises of the day was the old chilli plant from last year had made the effort and produced a fruit. I wasn't sure the seed had set properly, but there it was a little 25mm fruit. The new chilli plant I got in Skye, of all places, is just covered in flowers and is fruiting away quite happily. I tried one of the branches of basil and the taste was really delightful. It had that spicy basil taste, but with a bit of aniseed to it too. Must be a different strain from the one downstairs. Scamp's tomato plant is covered with fruit too. We had the first tomato yesterday and there are more ripening in the sunshine.
Later in the afternoon I went for a walk in St Mo's and captured my first dragonfly of the year. It seemed quite content sitting on the boardwalk sunning itself. Not very skittish, either, sitting perfectly still for a few photos. A couple of blue damselflies crowded in to get their photos taken too. Then I found a big fly clinging to the shadow area of the upstand at the side of the boardwalk. It was a really big monster of a thing, about 30mm long head to tail. It too allowed me to take quite a few shots before I got fed up. Lastly there was a grasshopper, but I couldn't quite get into a position to capture it. Pity, because they look almost alien. The dragonfly got PoD.
We had an hour in the garden when I got back. Just sitting listening to music on our headphones. It was a relaxing end to the afternoon.
Just before dinner, Scamp decided she'd better take the washing in as the clouds were gathering. I brought in the chairs too. Ten minutes later it was raining and it continued for a couple of hours. Not teeming rain, just gentle soaking rain. The best kind for the garden.
I had meant to go in to Glasgow today, but the notion left me. We may go tomorrow.