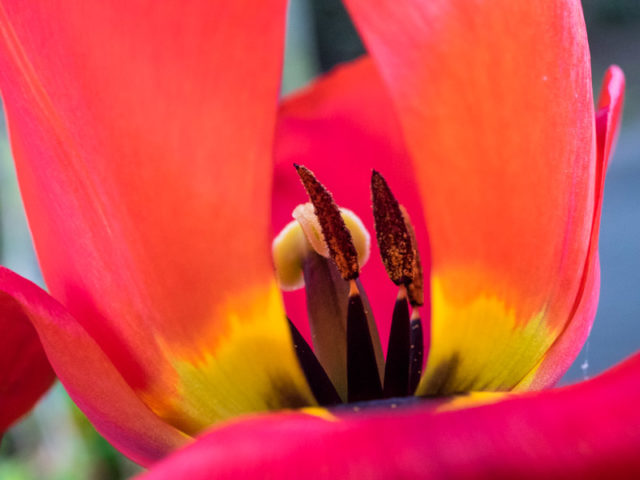 Weather had turned. Wind from the west and far too many clouds for comfortable lounging about outside.
Hardly past the door today. Even PoD was a bit of a struggle and almost too late. It's a view into the inside of a tulip. I liked the glorious colour of the tulip. It just summed up summer, except that west wind was just a tad cool for comfort.
A very lazy day. Good to look out at, but it didn't entice me to go out and experience its full flavour. I was quite happy, for once to be a viewer, not a participant. I did make dinner, which started out as a veg curry and turned out as a quite spicy vegetable stew. Too hot and even with the addition of some cooling coconut milk, it was still a bit fiery. The good thing about it is there's plenty for tomorrow. The down side is that it will, in the way of curries, be even hotter tomorrow.
Spoke to JIC to garner his opinion on coffee makers in general and makes he'd recommend. Still trying to work out what would be the best option as the Gaggia is still not at its best. I think I'm down to two models now, both by different makers. Pity you can only see them in photos. It's always more reassuring to have seen them with your own eyes. Maybe Nick the Chick will have sorted the Lockdown Release by the end of the week and JL will re-open its revolving doors to the coffee machine buying public, i.e. me. Realistically, that might just happen for the Christmas rush.
Tomorrow will be a better day and although the curry will be very hot, the predictions are that the weather won't be.