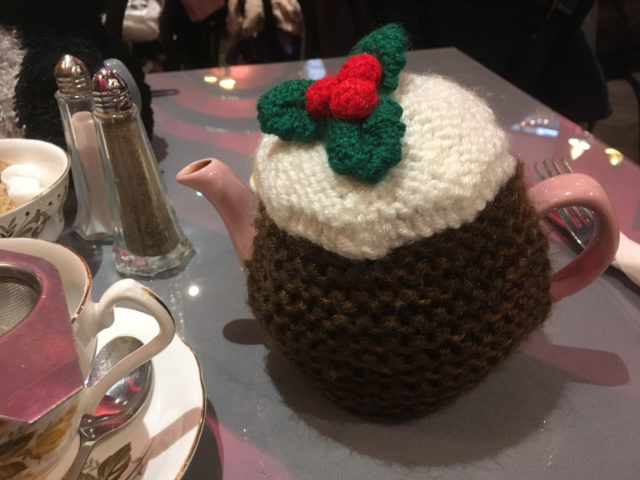 Meeting with the FA today (no, nothing to do with football)
Drove to Falkirk today to meet with our FA for the six monthly meeting. All was good, so we went to Tea Jenny's for lunch on the strength of it. Omelette for Scamp and Stovies for me. Lovely grub. Today's PoD is one of their famous tea cosies. After that, a walk through the delights of Falkirk which didn't take long. Waterstones for me and M&S for Scamp. That's about all the High Street shopping there is in Falkirk. We did, however, go to Morrisons after that for 'messages' and copious amounts of alcohol. It's Scamp's Witches Christmas party on Friday. Copious amounts of alcohol are a must.
Came home and got the tree down. The house always looks that much cosier with the tree up and the lights on. Yes, Hazy, the letter was there in the Christmas lights box. I'll hopefully get a shot of the tree tomorrow, just for the record. Need a bit of daylight to show it off at its best. There was precious little daylight today. Not a lot of rain, but very little light.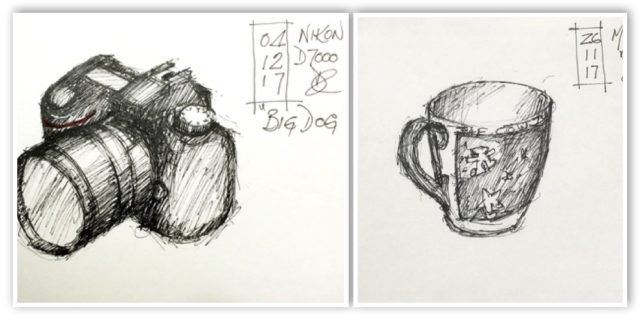 Finally managed to get up to date with Ink '17 sketches as you can see.
Tomorrow we should have been taking the car in to check the condensation in the headlights, but the garage phoned to say that, as there had been no recurrence it would be pointless to investigate it and when I suggested I take a photo of the extent of condensation the next time it happens they agreed it was the most sensible solution. Apparently there is a bulletin from Nissan as so many people have had the same complaint. That means we're free tomorrow. I think we're still going in to Stirling, though because Scamp wants to go shopping. Stirling has a good Waterstones and a Nero, so it won't be a totally wasted day for me.