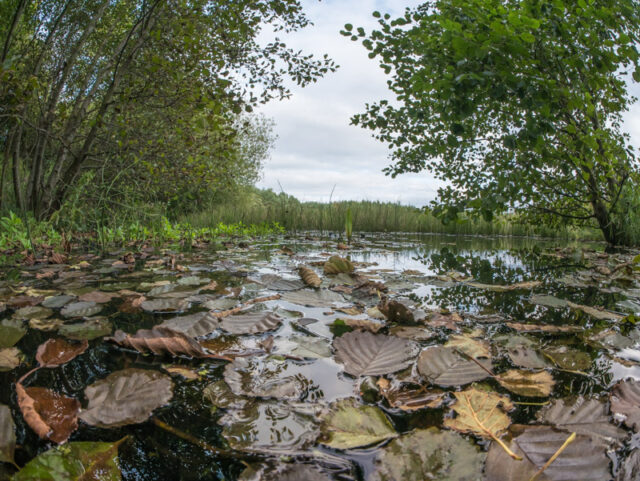 It just felt like a better day today for some reason.
Didn't do that much apart from talk to Hazy in the morning and see life from her side for a change after hearing about it from JIC's point of view. After that and after lunch I went out for a walk in St Mo's. The road past St Mo's was closed to allow a bit of asphalt laying near Condorrat and this allowed folk the whole width of the road to walk on. Nobody seemed all that bothered to do so, except the hoards from the school who spread themselves in social distancing groups right across what's usually a busy road.
In St Mo's I tried to avoid the usual dragonflies and managed instead to get some shots of a spider and some moody shots of dried thistle leaves. PoD, however went to a planned shot of leaves floating on the pond, near the outfall. I'd seen it yesterday and attempted a few shots, but wasn't happy with them. Today I used the Samyang 7.5mm fisheye and got what I'd been looking for. It's still not perfect, but it's close.
When I came home, Scott who has been digging up his front garden had 'acquired' a load of whin dust to lay as part of the foundation for his newly planned astroturf front lawn. He and his neighbour, Wullie and Bobby from our block were taking it in turns to barrow it from the road to Scott's garden. It seemed un-neighbourly to leave them to it, so I grabbed a pair of gardening gloves and went to lend a hand. It was good to have a laugh with three other folk who usually get a not and a word in passing. A bit like the "Auld Guys" having coffee before lock down. Just four guys having a laugh and some adult humour. I reckon I might have a sore back tomorrow from all that work, but it was fun.
We didn't get to Falkirk today, so maybe tomorrow.