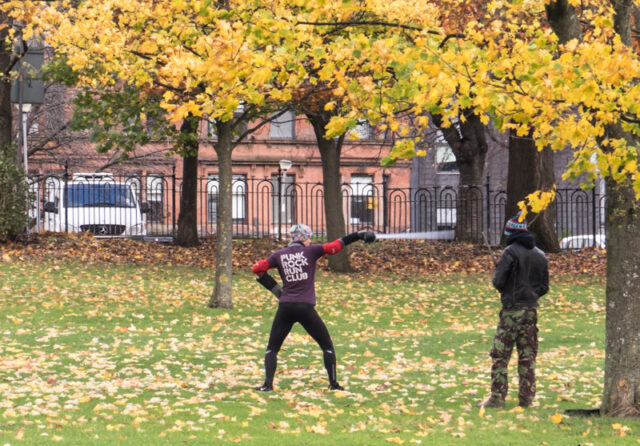 … with masks on.
Today, you've probably guessed, we went to Ikea. That's what Scamp suggested, and as I had nothing better to do, I agreed. Fairly long queue to get in, but it was moving quite quickly. One absolute numpty literally ran in front of us to get in the queue before us. I don't know if she'd maybe never been in the Big Yellow House before, but I hope she found what she was looking for or I imagine she'd scream and scream!
We were looking for three things one of which I thought was on the upper floor. I was correct, but we had to walk all the way round the maze and found it at the very end of the upper floor. With Covid restrictions you MUST follow the yellow brick road where before you could double back sometimes. That is totally forbidden now. So two trays for my storage cabinet meant I accumulated about 1,000 steps. We came out with the three items we had gone for … and a few more.
Drove back into Glasgow, heading for Glasgow Green. I followed the map in my head and then missed a lane change and we had to drive right through the city rather than round the edge. It didn't matter, Scamp knows the city well and told me the lane changes well in advance. As we were walking past the People's Palace I saw what looked like two sword fencers practicing under some trees. Now, as I said to Scamp, there's used to be a fair amount of swordplay down on Glasgow Green, but only on Saturday nights. This was in broad daylight. If it was London there would be van loads of polis armed to the teeth surrounding the Green within minutes. In Glasgow it's just par for the course, apparently!
We went along to Parnie Street because I was looking for a fitment for my Benbo tripod. Unfortunately the didn't have it. The nearest they had was more than double the price. I could get it from Amazon, but I'd have preferred to have bought it from a small independent shop. Never mind, they said they might have it in two or three weeks. I might wait that long. We walked back through The Green, the fencers were still there and there were still no police marksmen hidden in the bushes with laser sights drawing red dots on the fencers' heads. Nobody shouting "Throw down your weapons and lie on the ground!"
After lunch I gathered together a collection of 'small electrical and electronic' gadgetry that was destined for the council skip. For once there was no queue to get in and I was waved through after showing my proof of ID to show that I was a bona fide Cumbersheugh resident. Junk dumped, I headed for Fannyside Moor where I was aiming to get some photos with the Sony camera and a fifteen year old Sigma lens. The test went well and you can see the result on Flickr. It nearly made PoD, but was just pipped by the fencers. Love that stance!
Scamp and I hung up more of her ball lights on the rowan tree in the back garden. They really do brighten up the garden with such a cheery light.
That was about it for today. No plans for tomorrow, but the weather looks good again so we might go out for another walk, this time in NL.