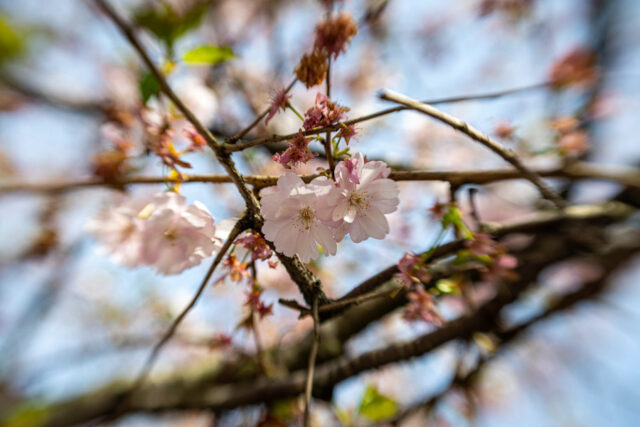 It may be April Fool's day, but I saw no sign of it today. I think the world is so war and virus weary that there's little time for fun this year.
I'd suggested that we go for a walk round Glasgow today. I'd no ulterior motive, just a walk round town and a chance to drop off a bag of books that had been languishing in my room. Scamp said we might go in on the bus, but we'd have been too late to catch the fast bus and neither of us fancied the X3 which takes nearly 50 minutes to trace 20 miles. Then Scamp said why didn't we go in the car and she'd drive. She meant her car. I eventually agreed and we piled into the car. I tried to get the boot to open, but there was a softness at the switch that made me think the switch mechanism had come adrift and it really is an terrible faff to get in via the back seat. However, we didn't really need to use the boot, we weren't carrying much and weren't intending buying much either. Halfway along the road the car started, what Scamp calls, 'whistling'. It sounded more like screeching to me. As she was driving it gave me time to work out what was happening. Eventually I settled on a dried out wheel bearing. By the time we got to Glasgow it was getting loud and alternating from side to side. Two wheel bearings, both front? When we were waiting at lights after leaving the motorway, I could definitely smell burning, like overheated metal. We got parked and walked away and the car just sat there no clicking like you get with overheated metal, so maybe I was imagining things.
Took the bag of books to the Oxfam shop and they were again happy to see them. That was my main task completed. With nothing to do, Scamp suggested we walk to Glasgow Green. That sounded like a decent idea, because the sun was shining and there weren't too many folk about. Then I realised I'd not brought my woolly hat, in fact I didn't have anything to keep my head and ears warm. That's what happens when you decide you don't need your big heavy Bergy jacket whose pockets are filled with everything you might need, including a woolly hat. However we walked round the green and at the front gate I got today's PoD which was a Lensbaby shot of some cherry blossom. I also got a second conventional lens shot of two folk walking through the cherry trees. That's on Flickr too. Scamp prefer that one to my arty-farty flower photo. On the way back we did nip into M&S for a cheap woolly hat to shut me up.
Lunch was in Paesano and, as Scamp was driver for the day, I had a glass of red wine with my No 3 pizza. Scamp had her standby No1 – no garlic. We were halfway through our pizzas when we were joined by four weans of the female persuasion. Their combined ages were about 40, but they were probably younger. They all seemed to talk at the same time, then all pick up their phones and silently type madly into them, probably sending messages to each other. Then they discovered another group of four further along and started verbal, and probably digital, conversations with them too. I can't stand weans, and these looked like snooty, posh weans and they're worse. Thankfully we were leaving soon.
We both took a waltz round JL, me window shopping and Scamp buying, then we headed for home. The noise from the bearing started right away and by the time we reached Cumbersheugh it was deafening. I told Scamp to turn off onto an alternative, quieter road and stop when we'd a fairly straight stretch. That's when I heard the ticking of metal cooling. I got out and tentatively touched the nearside wheel, but it was just warm. The offside wheel was too hot to touch. That settled it, at least a new wheel bearing needed. We took it easy the rest of the way home and the smell of overheated grease lingered for a while. The wee Red car will need to go to the car hospital to get the work done and in the mean time I'll see what I can do about the boot switch.
When we arrived at the house there was a big box of flowers waiting for Scamp. There was no message with it and no indication of who had sent it. Scamp did some investigations and worked out who it might have come from. She spoke to her sister in Skye later and confirmed her suspicions. Somebody at M&S is going to get an earful for not including that birthday message.
Early rise tomorrow because it looks as if the dance class is on and as there are still roadworks on the way to Bridge of Weir, we'll need to be out a bit earlier. Other than that, no plans.