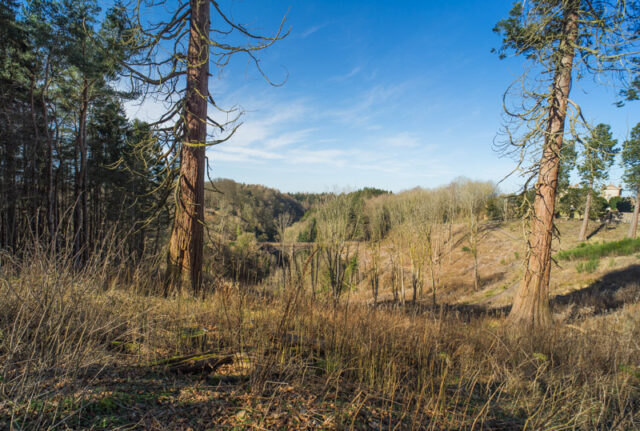 Another beautiful day with a wraparound blue sky to boot.
Far too good a day to lie in bed, or even to stay in the house. We had to get out … somewhere.
The 'somewhere' turned out to be Chatelherault in Hamilton. Now technically, that's outside our region, but is still in Lanarkshire, so as far as I was concerned we were within our rights to go there. We got there fairly early, just after 11am and trotted off round the high level path going clockwise. We had no definite destination in mind, but I thought The Green Bridge would give us a good walk. We could always cut it short if we needed to. We passed a lot of folk who were walking anticlockwise. There will always be a few who want to do it "the wrong way." We also passed and were passed by other walkers doing it the right way, clockwise. The path was fairly mucky in places and that was when we realised we'd left the walking poles in the car. They would have been especially useful when we were on the final descent to the Green Bridge down the slippery, mucky steps. We were warned by a couple of ladies that the last time they had walked it, they found that the path was flooded at the bottom and they had to detour over a fence into a field. Today it was flooded again, but some kind souls had built a raised path through the water and we managed to keep our feet dry.
I thought that we'd be able to take an easier path along the side of the Avon Water back to the visitor centre, but I realise now I was getting the green bridge and the white bridge mixed up. We had to cross the green bridge and climb up the path on the other side that would eventually take us along to the Cadzow Oaks and over the Duke's Bridge, back to the car park. It was a long walk. Much longer that we'd anticipated, but really good on such a wonderful spring day.
On the green bridge itself, I was talking to a woman who came from Larkhall and sharing our memories of it- My mum used to take Alex and I down there. I think we used to get the bus down to Millheugh and we'd walk along the side of the river to Maryhoses where the green bridge is. It was a steel bridge then and it was painted green. These days it's wooden and unpainted. It used to have drainage holes in the floor where you could drop stones through. A bloke on a bike cycled past while we were talking and on the sandy bank of the river set up a hammock to rest his weary legs … and look 'cool'. Another cyclist was trying to cross over onto an island, lost his footing and ended up in the river. We passed him later on the path, looking muckier that ever. A long walk, but most enjoyable.
Back home we did a sort of check over the garden. What was growing and what wasn't. Overall, it looks as if a lot of the plants have survived the vicious winter. Some work still to be done, but not as much as I'd feared.
PoD was a shot of the Duke's Bridge just as we were setting off.
Tomorrow we are booked to take Shona for her jag in Motherwell.