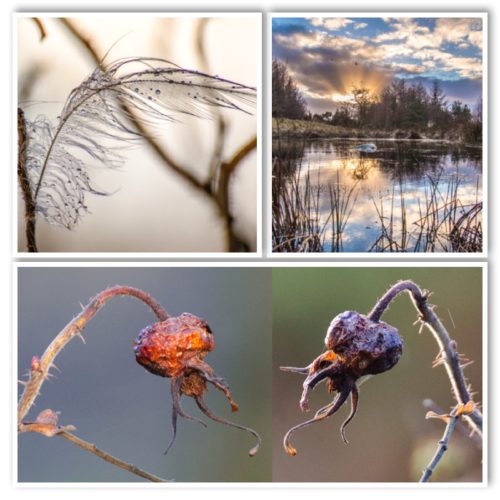 This morning, over a cup of coffee, we discussed what to do with the day.  We decided to go out for lunch because it was fairly bright.  The reason we gave was that we needed to get some compost to plant up the spider plants that have been languishing in water on the back window sill and we could get that at a garden centre and most garden centres have cafés now.  Devious, eh?   We had to drive through the roadworks going on all round the ring road.  Everywhere had closed signs and everywhere had diversion signs, sometime contradictory signs, but lots of them except where they'd be helpful.  Well, you've got to use the "Twenty seven 8×10 full colour glossy pictures with the circles and arrows and a paragraph on the back of each one …"  (Alice's Restaurant – Arlo Guthrie).  After we'd manoeuvred our way through the barriers, I thought we would drive to the garden centre out by Killearn, but the weather that way looked very rough.  Dark clouds and what looked like heavy rain.  The weather closer to home had deteriorated too, so we changed our plans and went to Dobbies at Bearsden instead.  As is usual in garden centres these days there are franchises and Dobbies now has an Edinburgh Woollen Mill within its shopping area.  I got another warm winter shirt – you can't have too many shirts.  After lunch and after buying the compost, we drove home through brightening skies again.
By the time we got home the skies had cleared and blue sky was once again in charge.  While Scamp phoned her Cumbernauld sister, I took the chance to get some photos over at St Mo's.  By the time I got over there, the sun was sinking, but the blue sky was still there.  Just a few shots in the bag, but enough for a PoD and then some backup.
I think we're driving Scamp and her sister to Glasgow Airport on Thursday and it will be a fairly early rise.  It's only her sister who is flying down to a funeral in Bristol, but Scamp's going in to the airport with her to provide much needed moral support.  Hopefully I'll have an hour or so in Glasgow to get this week's sketch done.  Tomorrow, however, is free so far.  Weather looks wild.  Strong winds and the possibility of snow with more due on Thursday.  Oh what fun, but the combination might provide some interesting photo opportunities.