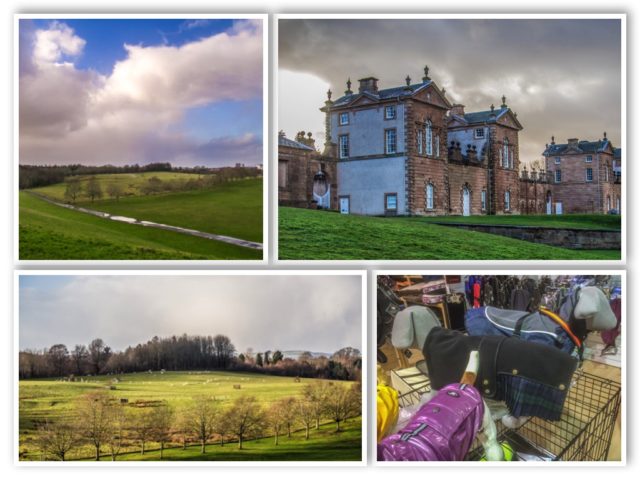 It was a wild morning after a wild night with high winds and driving rain and the dogs next door were howling.  Decided that going out was better than staying in, so we drove out along to Larkhall and from there we went down to Garrion Bridge.  Scamp fancied a coffee in the antiques centre / garden centre there.  Apparently one of 'Gems' had recommended it, saying she goes there regularly.
It was a barn of a place.  It used to be a fruit farm years ago and I suppose the giant shed where  the antiques centre is housed was a storage barn and also a place for keeping the plants over the winter.  Today it housed mainly 'grey hairs' out for a couple of hours drive in the wind and rain and stopped off for a coffee and a bowl of soup.  For us it was a roll 'n' sausage and a roll 'n' scrambled egg.  You can sort out for yourselves who the recipients were!  When we were done we went for a walk around the different shops within the building.  It all seemed confused and confusing.  Just a jumble of tat, and the usual garden centre nonsense, mixed up with a handicrafts area with "DO NOT TOUCH" signs and clear plastic bags of wool everywhere, an 'Art Gallery' ('nuf said) and lots of doggy and horsey things.  They even had a dog coat made in the style of a kilt!  I kid you not.  You can see I got a photo to prove it.
I'd never been in an antiques shop before, not a 'real' one anyway.  I've wandered round a few jumble sales and car-boot sales, but not an actual antiques shop.  If the first area could be defined as 'tat', this was old tat, dirty old tat in some cases.  The prices were not as high as I'd expected, but neither was the quality.  I kept thinking of things we've go up in the loft or in the spare room.  Some of those are now antiques.  Maybe we should sell them and get some cash.
As we were near Hamilton, I thought we should stop at Chatelherault on the way back and hopefully get more pics there.  It was cold with occasional glimpses of sun, but a gale blowing.  We found the cafe, had a cup of hot chocolate, took a few pics and came home.
Tonight was salsa with gridlock on the motorway first.  Managed to take the diversion along Royston Road and got there in time.  Took two classes, 6.30 beginners and 7.30 advanced.  Great fun in both.  Still windy when we drove home and with snow and sleet mixed in.
Hoping for less wind tomorrow and more sun.